For a while now, I've been thinking about running an on-going Positive Beauty feature, but hadn't really known how to go about it. However, anyone who subcribes to Psychologies Magazine (I say "subscribe" because I have a copy, but it doesn't appear to be on the shelves yet??) may have come across their "Positive Beauty Manifesto". In all fairness, I haven't actually read the entire section yet (perhaps because the boyfriend keeps stealing it to read the "pervy" parts! Do males ever grow out of that? It used to be the problem pages of teen mags, now this....!!), but it sparked my immense enthusiasm to get this feature rolling.
When I was a little younger, I used to always hear comments, like this (not necessarily directed at me):
"Why do you need make up? It won't do anything for your ugliness?""You really should start wearing something on your face..."
And even the media is jam-packed with:
"She's too fat.""She's too thin.""She's too pale.""She's wearing too much makeup.""She really needs to wear more makeup."
As you can tell (and are probably full aware of yourself), most of these comments are contradictory, and it is of no surprise that so many of us have body confidence issues. And I also hate the fact that if you wear makeup, so many people comment that it's because you're looking to attract a member of the opposite sex, when in truth, I bet the majoirty of us wear makeup for ourselves, to make us feel happy in our own skin. Screw men (not literally, in this case!), because we need to believe in ourselves first, thank you very much!
Therefore, I have decided to set up, a Positive Beauty Pledge.
What does the Positive Beauty Pledge mean?
Anyone who agrees to the Positive Beauty Pledge must:
Promise not to judge others on the way that they look
Promise not to judge themselves too harshly
Realise that no one is "ugly", but most important, you are not ugly
Realise that you are beautiful, in your own way, and if others don't like it, that is their problem, not yours
Realise that you have the right to look and dress how you like
Acknowledge that everyone is unique
(If anyone can think of anything else to add to this list, then feel free to let me know!)
What do I get out of the Positive Beauty Pledge?
Anyone who takes the "Positive Beauty Pledge", gets to display this badge on their blog/profile/where ever you fancy: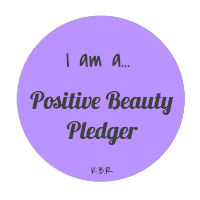 Okay, so the badge isn't very pretty (I'd like to say that was deliberate and to make a point, but who am I kidding, I'm just rubbish at making badges!!), but it serves a purpose!
The badge represents the fact that you are happy (or determined to make yourself happy) in your own skin, and your promise to at least become more open-minded towards others who you may not consider to be attractive.  
How do I become a Positive Beauty Pledge?
Ah. Well, you knew that this wasn't going to be easy, didn't you? And, let's just say that this is not a case of "Take the Badge, and Run!", nope, to get this badge, you have to earn it, and so I shall tell you how you can do that:
To become a successful pledge you must:
Fill out the Pledge Form (just a few simple questions, nothing too difficult)
Send two photographs of yourself:

The first must be a recent one. This must be a picture that you are not completely happy with how you look
The second can be recent or old, that's your choice. This must be a picture that you think you look absolutely great.

Answer a few questions regarding your photographs.
Note
: All answers, pledges and photographs will appear on this blog, so you must agree to this.
If you are interested in becoming one of the first Positive Beauty Pledges, send me an email at [email protected]
Let's get thinking positively girls, because we all deserve to feel beautiful!