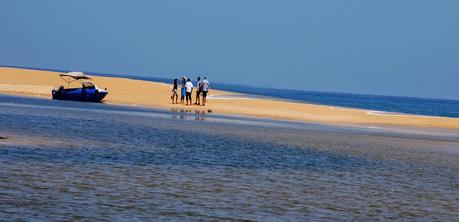 One major reason why tourists visit Kerala in such large
numbers every year, besides its breathtaking beaches, fascinating hill station and rich cultural heritage is its backwaters.
 The backwaters of Kerala are a unique network of rivers, lakes (manmade and natural), inlets and canals that make this place a heaven in itself. The experience of cruising along these backwaters in a houseboat, talking in all the beauty and serenity of the beautiful environment around is something that cannot be traded with anything in the world. 
it is a once in a lifetime experience that one should not give a miss. These backwaters are not only a major tourist attraction but also form the lifeline of many people in this state. 
They use it as a source of livelihood, as means of transport, for irrigating their crops and meet other water needs. It not only gives Kerala a distinct identity in the world but also supports the livelihood of hundreds of its inhabitants. It is a boon for the state.
Among the many popular backwater destinations of this state the Poovar Backwater is quite popular and enchanting. A Poovar Backwater tour should be a must if you are visiting the backwaters of this state for it has been declared as the 50 must visit destinations in India by National Geographic Traveller. 
Just about 38 kms from Trivandrum is this beautiful fishing village which can be reached by boat in just about 15 minutes. There is no other means of transport. This small unspoilt and undisturbed village, lying quietly amidst rivers, lakes and sea, wrapped in rich vegetation is an abode and peace and tranquillity. 
It is a perfect place to escape from the noise and commotion of the world and have some peaceful time all by yourself. Some of the major attractions you can find around Poovar Backwater are the tiny yet gorgeous Poovar beach, the nearby Kovalam Beach which is touted as one of the best beaches of Kerala, the small and simple fishing village and the sea port of Vizhinjam. 
There are a whole lot of things you can do as part of your Poovar Backwater tour like cruising along the backwaters in a houseboat, taking part in the boat races or merely watching the spectacular event, go for a crocodile watching expedition, take some ayurvedic massages or treatments in the spas and ayurvedic medical centres, and just simply soak up the beauty and naturalness of this place which will bring you closer to nature. 
This place is also a land of great and fascinating festivals like the famous elephant race, the Nishagandhi dance and music festival, the annual food festival where delicious Keralan and other South Indian dishes are served, and the simple village fair.
 All this forms the social and economic life of the locals who are extremely hospitable and friendly, always ready to welcome any tourist among themselves. This place is the epitome of simplicity and natural beauty in its purest form. A visit here will be something to remember all through your life.