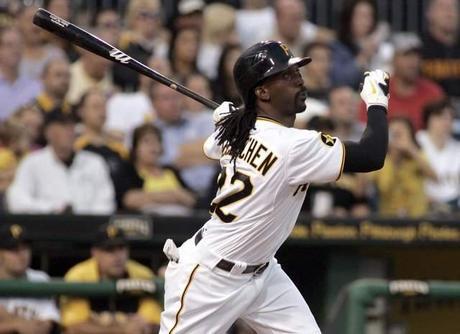 Photo: Justin K. Aller/Getty Images
- Adam Parker
Andrew McCutchen is the right man at the right time for the Pittsburgh Pirates.
The team made it's commitment to make McCutchen the face of the franchise after the two sides agreed to a $51.5 million, six-year contract.
"It all really hasn't sunk in for me yet,"
the All-Star center fielder said Tuesday.
"It's like when you're getting remarried and you are renewing your vows. That's how I feel."
Though he hit just .259 last year, McCutchen had career highs in home runs (23) and RBI's (89) while stealing an impressive 23 bases. He would have been eligible for free agency following the 2015 season, had the Pirates not extended him.
The 25-year-old gets a $1.25 million signing bonus, payable within 30 days of the contract's approval by Major League Baseball, and will make $500,000 this season. He'll receive $4.5 million in 2013, $7.25 million in 2014, $10 million in 2015, $13 million in 2016 and $14 million 2017. The Pirates also have a $14.75 million team option for 2018 with a $1 million buyout.
McCutchen -- considered the "king" in a core group of chess pieces the Pirates are relying upon to change the club's misfortunes -- received the second-largest contract in franchise history behind Jason Kendall's $60 million, six-year deal in 2000.
The casual baseball fan -- and realistically also -- most non-Pirate fans don't know very much about McCutchen and probably question why such an 'unheralded' player would be worth such serious coin. However, if you ever talk about McCutchen with anyone in the Pirates front office -- most notably general manager Neal Huntington -- you would learn to know why very quickly.
"Andrew McCutchen is one of the best young players in the game and we are very pleased to make this type of commitment to a great player and a great person,"
Huntington said.
"It has been our intent for Andrew to be a cornerstone for this organization and this contract solidifies that intent for at least the next seven years."
Steve Hammond, McCutchen's agent, credited both parties for making sure McCutchen will continue to be among the focal pieces for the young squad of swashbucklers while they continue the rebuilding process.
"We were working hard at this,"
Hammond said.
"It was something Pittsburgh wanted and Andrew wanted. We found common ground."
Floating between leadoff and third in the lineup, he helped keep the Pirates in contention in the NL Central until mid-July last season. McCutchen hit .286 in each of his first two seasons in the majors, and has 78 career stolen bases, adding another reason to lock him down long-term.
"We're willing to make this commitment because of the person Andrew is, the player Andrew is, and the player we believe he is going to become,"
Huntington said.
McCutchen's deal is similar to the contract Cincinnati Reds' outfielder Jay Bruce and Arizona Diamondbacks' outfielder Justin Upton agreed to at similar points in their careers. Both players had two-plus seasons in the majors at the time the deals were inked. Once McCutchen reached that level of service following the 2011 season, he felt he had the right framework in which to make a deal.
"It was a better opportunity to look at those players and compare ourselves to them,"
Hammond said. "It worked out."
McCutchen's blistering speed has made him one of baseball's best defensive center fielders and his charismatic smile and trademark dreadlocks have made him one of Pittsburgh's most popular players.
Something tells me, that with McCutchen now locked in with the Pittsburgh for the long-haul, he and the Pirates both will soon be relevant again in the world of baseball.
Be sure to follow Beard And Stache on Twitter 
@BeardAndStache
, 
and also Adam 
@Adam_Parker43
, Like our Facebook page 
HERE
!