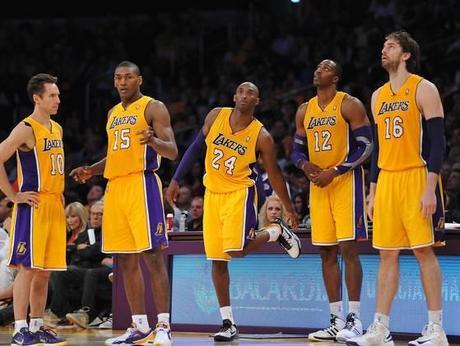 Photo: Jayne Kamin-Oncea/US Presswire
- Adam Parker
The 2012-13 NBA season is just getting underway with most teams having played a handful of games up to this point and unless you've been living under a rock, you likely have heard, at least in passing, about the early season struggles of the new-look Los Angeles Lakers.
After a frustrating 95-86 loss to the Utah Jazz on Wednesday night, the Lakers fell to a disappointing (1-4) on the young season and as expected, the Lakers' faithful are getting a bit restless.
Kobe Bryant and the rest of the new-look roster that includes Dwight Howard, Steve Nash, Antawn Jamison and Jodie Meeks as well as three new assistant coaches in Bernie Bickerstaff, Steve Clifford and Eddie Jordan aka the guy who is credited for the installation of the Lakers' new Princeton 'hybrid' offense are all preaching patience.
However, after such a bad start for a team with impossibly high expectations heading into the season, you can bet that the patience of both the fans and the Buss family who sign the checks is wearing thinner by the minute.
So who's to blame?
I for one agree with the fans and management. While I fully understand that we're talking about a minuscule five-game sample of an 82-game season, I also know that we're talking about the Lakers — one of, if not the most dominant team in the NBA since Jordan's Bulls. Other teams might struggle when faced with adversity like this, but the Lakers? With all of the talent they have on that roster? No way.
Being as bad as they are despite all of that talent on the roster only means one thing — Mike Brown has to go, right?
After all, isn't that the lay of the land in the NBA? If a team plays well, a coach gets to keep his job and potentially even receive a pay raise. If they play poorly, the coach is shown the door. It's that simple. Fair or not, that's the way it is in the NBA.
When it all comes down to it, though, this team has more issues than just the troubles of Brown. Injuries to Nash, Kobe and Dwight at different intervals of this still young season have derailed this team on it's path to develop chemistry and grow into a championship-caliber team before they even had a chance to get up to speed.
Speaking of speed, this group of thirty-somethings have fill up the bulk of this Lakers team isn't known for it, and it's tough to say whether or not they'll be able to contend with teams that sport more youth and depth than they do. The blame for their slow start spreads throughout the organization, not just to any one individual.
Right now, the Lakers suck,
just as Dallas Mavericks' owner Mark Cuban hoped they would
. Do the Lakers have the pieces necessary to make a title run? Absolutely. However, their margin for error is getting smaller every day.
Despite their public plea for patience from the fans, media, etc., you better believe that this Lakers team knows what is at stake. They understand that, with Father Time gradually inching his way closer to all of them, they can't afford to get complacent. Their time is here and now, and they simply can't afford to be patient.
Be sure to follow Beard And Stache on Twitter 
@BeardAndStache
, and also Adam 
@Adam_Parker43
, Like our Facebook page 
HERE
!