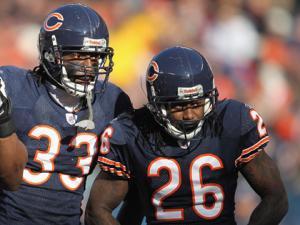 Photo: Getty Images/Jonathan Daniel
- Adam Parker
Week 9 of the 2012 NFL Season is done and with it, so are arguably the playoff hopes of teams like the Kansas City Chiefs, Jacksonville Jaguars and Cleveland Browns.
But while those three teams are already planning for draft day next April, the rest of the league is continuing to take strides towards a playoff push.
As for the teams who flourished this week? Well, I'm not going to go through all of them, but as far as the
big
wins go, we saw Tampa Bay Buccaneers' rookie running back Doug Martin go complete Beast Mode for the second straight week to the tune of 251 yards and 4 touchdowns. If you had this guy in fantasy football, odds are, you, like the Bucs', won.
The Chicago Bears continued to show why they have arguably the best defense in football. They blew out the Tennessee Titans by a score of 51-20. Jay Cutler and Brandon Marshall hooked up for three scores through the air while the defense added two touchdowns of their own thanks to a pick six from Brian Urlacher and fumble returned for a touchdown by defensive end Corey Wooton. Make no mistake, folks. This Bears team is legit.
And last but certainly not least, what about those Indianapolis Colts? You know the ones — those (5-3) Indianapolis Colts who are turning heads around the league. Andrew Luck is as good if not better (not sure that's humanly possible) than advertised and the defense is playing inspired football as well.
I had another strong showing in Week 9, finishing with a stellar mark of (11-3).
My Pick 'Em Record:
(66-46)
Now, let's push forward to Week 10!
Indianapolis Colts (5-3) at Jacksonville Jaguars (1-7) on Thursday Night Football
Another middle of the week prime-time match-up on NFL Network. Another one-sided snooze fest. The surprising Colts led by rookie phenom Andrew Luck and a much improved defense (at least when compared to previous years in Indy) should make this an easy victory for the road team despite the fact that the traveling team typically struggles in these Thursday night games.
Smart money says go with the Colts here though, because while the traveling team may struggle in this scenario, the Jags' are also just plain bad no matter where they're playing, evidenced by an (0-4) mark in their own building.
Prediction - Colts win, 27-17
New York Giants (6-3) at Cincinnati Bengals (3-5)
The Giants were unable to get it done last week at home against the visiting Pittsburgh Steelers in the wake of
Hurricane Sandy
. Against the Bengals, however, the G-Men shouldn't have much of an issue, especially considering Cincy is riding a four-game losing streak heading into this one.
Prediction - Giants win, 28-14
Tennessee Titans (3-6) at Miami Dolphins (4-4)
Matt Hasselbeck and the Titans' passing attack will have plenty of opportunities to fill up the stat sheet against Miami's 30th-ranked pass defense. The only problem? The Titans' defense isn't much better after surrendered four offensive touchdowns last week to the Bears and didn't look like they could stop Chicago no matter what they did. Reggie Bush, Ryan Tannehill and company are in for a good week.
Prediction - Dolphins win, 27-23
Detroit Lions (5-4) at Minnesota Vikings (5-4)
An important game for both teams as Detroit tries to continue rising from the ashes while Minnesota attempts to avoid free-falling into a volcano.
The good news for Minnesota? The game is at their place where they're a perfect (4-0) on the year. The bad news? Matthew Stafford and Calvin Johnson Jr. aka
Megatron
 are starting to find their groove and while the Vikings boast a top-10 pass defense, they are also coming off last week's loss to the Seahawks where they let rookie quarterback Russell Wilson throw for three scores on them. The Lions are winners of two straight while the Vikings are losers of two straight. Which streak will come to an end?
Prediction - Lions win, 30-20
Buffalo Bills (3-5) at New England Patriots (5-3)
The Bills have yet to win in New England since Gillette Stadium opened its gates back in 2002. Some guy named Tom Brady was the Pats' quarterback then, and three Super Bowl titles later, Brady remains the guy under center for Bill Belichick in New England. Needless to say, unless Brady is knocked out of the game — the odds of which, despite the 2008 scenario, are astronomically low — the Patriots are an easy lock to win this one.
Prediction - Patriots win, 45-20
Atlanta Falcons (8-0) at New Orleans Saints (3-5)
It's gut-check time for the Saints. They either win this game and become the first team this year to knock off the red-hot Falcons or they pack it in and head into hibernation until April rolls around. I'm guessing the latter.
Prediction - Falcons win, 27-17
San Diego Chargers (4-4) at Tampa Bay Buccaneers (4-4)
Each of Tampa Bay's four losses have been by one possession. Quarterback Josh Freeman and rookie running back Doug Martin lead a much-improved Bucs' offense into this one. The only question is, will Tampa Bay be able to score enough points to offset their 32nd-ranked pass defense? If Philip Rivers was looking for a game to shine, this is it. Then again though, the Chargers did lose to the Browns a couple weeks back...
Prediction - Buccaneers win, 30-27
Denver Broncos (5-3) at Carolina Panthers (2-6)
Wasn't it nice to not have to deal with another Cam Newton pout-fest after last week's post-game press conference? I guess winning really does cure everything. Unfortunately for Cam-Cam and company, Peyton Manning and his Broncos are coming to town and need to win to stay ahead of the curve in a tightly-contested (except for the Chiefs) AFC West. Get those tissues ready, Cam.
Prediction - Broncos win, 27-23
Oakland Raiders (3-5) at Baltimore Ravens (6-2)
Carson Palmer knows all about the Ravens going back to his days with the Bengals and should continue slinging the rock well again against what has become one of the league's worst pass defenses. That being said, I still like the Ravens in this one. Why? Ray Rice. After all, the Raiders did just give up what felt like a bazillion yards to Doug Martin, so why would things get any better against Ray Rice?
Prediction - Ravens win, 31-23
New York Jets (3-5) at Seattle Seahawks (5-4)
The Jets are coming off their bye week and you know what? They probably still don't know what the hell they're doing on offense. Seattle is at home where they're virtually unbeatable and their tough defense isn't going to make things any easier for the visiting Jets. Is it just me, or are those 'Tebow' chants getting louder?
Prediction - Seahawks win, 20-13
Dallas Cowboys (3-5) at Philadelphia Eagles (3-5)
Both of these NFC East clubs are struggling, but one of them has issues that are actually fixable — the Cowboys. The Eagles, meanwhile, are in for a tough rest of the season. Their offensive line is sorely missing the veteran Pro Bowler Jason Peters on that left side and Michael Vick is getting tossed around like a rag doll on seemingly every pass attempt.
Prediction - Cowboys win, 27-20
St. Louis Rams (3-5) at San Francisco 49ers (6-2)
Does anyone really expect this one to be much of a contest? The 49ers are still one of the most complete teams in football and the Rams... well... the Rams still have too many holes to fill. Their secondary is much-improved, but I just don't see them having the necessary firepower to keep up with the Niners in this one.
Prediction - 49ers win, 24-10
Houston Texans (7-1) at Chicago Bears (7-1) on Sunday Night Football
This is not only the game of the week, but based on how well both teams have played up to this point in the season, it could very well end up being the game of the year.
For the Texans, Matt Schaub has been very efficient in the passing game and Andre Johnson and Owen Daniels continue to be reliable targets in the passing game. Arian Foster? He just continues to do what he does week after week. Grind out the tough yards and score touchdowns. J.J. Watt, the current NFL sacks leader, is a candidate for Defensive Player of the Year too.
On the other side of the spectrum, the Bears' offense has looked much improved in recent weeks with Jay Cutler, Brandon Marshall and Matt Forte leading the way. The defense? It's the best in the NFL bar none. Tim Jennings and Charles Tillman make up the best cornerback tandem in the league right now and are both in contention for the DPOTY. Brian Urlacher, Lance Briggs and Julius Peppers round out the other stars of the group.
However, because of the notoriously suspect pass protection offered Jay Cutler by his offensive line, I think I'm ultimately going to side with Houston in this one.
Prediction - Texans win, 24-20
Kansas City Chiefs (1-7) at Pittsburgh Steelers (5-3) on Monday Night Football
While the Sunday night game is looking like the most competitive game of the week, the Monday night game is at the opposite end of the spectrum.
While the Steelers are coming off a clutch win against the defending Super Bowl Champion New York Giants to firmly cement their place as contenders in the AFC, the Chiefs, contrary to what I wrote about them before the season, have been nothing short of the most disappointing team in the league this year and there's no logical reason for it considering the talent and overall health of the team. Pittsburgh should win this one handily.
Prediction - Steelers win, 27-13
Be sure to follow Beard And Stache on Twitter 
@BeardAndStache
, and also Adam 
@Adam_Parker43
, Like our Facebook page 
HERE
!