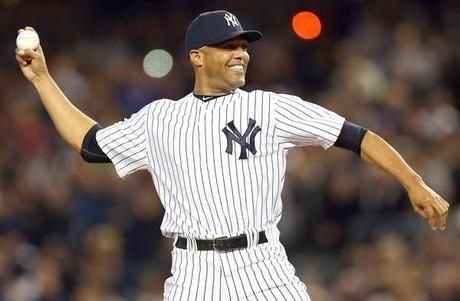 Photo: Elsa/Getty Images
- Adam Parker
It looks like the New York Yankees won't have to find out what life after Mo' will feel like on a permanent basis just yet, as Mariano Rivera has informed Yankees' General Manager Brian Cashman that he plans to make his triumphant return to the mound as the Bronx Bombers' closer extraordinaire for the 2013 season.
"He wants to play again,"
Cashman told ESPNNewYork.com's Andrew Marchand on Saturday.
"I'll work with his agent, Fernando Cuza, on the details of a contract."
The negotiations for the new contract will be interesting indeed considering that Rivera made a cool $15 million last season — a season in which he only pitched in nine games before suffering a torn ACL during his vintage pre-game warm-up routine where he would shag fly balls in the outfield during batting practice.
A day after the injury, Rivera, who turns 43 on Nov. 29, vowed he would return in 2013. "I'm coming back. Put it down. Write it down in big letters. I ain't going down like this."
However, late last week there were rumors circling that Rivera may have been reconsidering his position on the issue. Since that's now no longer the case, the Yankees now have to decide how much to pay Mo'.
It is unclear at this juncture what the front office — despite having the utmost respect for the legendary closer known as 'The Sandman' — will offer Rivera in terms of money, but something tells me that it will certainly be less than the eye-opening salary he had for the 2012 season.
After all, the closer role — which was filled by Rafael Soriano after Rivera went down — wasn't the problem as Soriano converted on 42-of-46 save chances. There's no doubt the Yankees are going to pay Rivera as there's
no way
they would turn away his services.
Scott Boras, Soriano's agent, has informed New York that his client will likely enact the opt-out clause in his contract to become a free agent (of course, Scott, no one expected anything less with you pulling the strings).
As for Rivera, the main reason I don't think he'll earn as much in 2013 as he might have before the injury is simple — besides coming off an injury, the Yankees have more pressing problems on offense to worry about. While Rivera will undoubtedly provide the lock-down pitching we're accustomed to seeing, one thing he can't do is the help the Yankees through their terrible offensive slump that we all witnessed in the post-season.
It's nice to have you back, Mo', but would you mind taking a small pay cut so New York can go out and get another desperately needed bat? Thanks.
Be sure to follow Beard And Stache on Twitter 
@BeardAndStache
, and also Adam 
@Adam_Parker43
, Like our Facebook page 
HERE
!