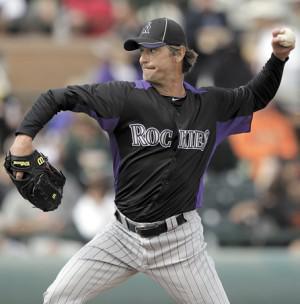 Photo: Marcio Jose Sanchez
- Adam Parker
Looks like this old fossil still has some fight left in him.
But seriously, all joking aside -- journeyman pitcher Jamie Moyer is defying the odds.
Moyer is somehow continuing to keep the clutches of Father Time at bay -- he's back in the big leagues at the ripe age of 49 years old.
He managed to earn a spot in the Colorado Rockies' rotation and will start the team's second game of the season against the Houston Astros on April 7.
According to manager Jim Tracy, Moyer's as good as ever, 
"It is still Jamie Moyer. It's the Jamie Moyer that was pitching prior to the arm injury that cost him the entire 2011 season. It's the same guy."
"It's the same worker. It's the same professional. It's the same stuff, same velocity, same pitches. When he's right, same type of effectiveness. You're going to venture into this."
Moyer, entering his 25th season in the big leagues (Congrats, Jamie, on the accomplishment by the way -- I didn't think I'd see anyone playing any sport professionally for longer than I've been alive), posted a 2.77 ERA this spring and beat out two competitors. Mind you, two other pitchers who he's old enough to have fathered in 22-year-old Tyler Chatwood and 28-year-old Guillermo Moscoso for a spot in the rotation.
Needless to say, Moyer was ecstatic.
"I was excited. I'm happy. I'm honored,"
Moyer said.
"But in the end, like Jim said, 'You earned it.' That was my goal coming here." 
When Moyer takes the mound for his first start next week, he has the potential to become the oldest pitcher in major league history to earn a victory.
The last player to play in the majors at 49 was infielder Julio Franco, who finished out the season with the Braves in 2007 after turning 49 in August.
Moyer will hit the half century mark in his life this November.
Moyer missed the 2011 season after undergoing Tommy John surgery. By returning to the majors, he becomes the active leader in wins (267), innings (4,020) and starts (628). In his last active season, he went 9-9 with a 4.84 ERA during a stint with the Philadelphia Phillies in 2010.
But the old southpaw isn't looking to slow down.
"It's an opportunity, and I think it's a great opportunity to try to take it and run with it,"
Moyer said.
"I've looked as my whole career as an opportunity, especially as I've gotten older."
All the questions surrounding Moyer's age aside, we here at Beard and Stache still think the old geezer, ahem, we mean savvy veteran, still has all the tools at his disposal to go out and get the job done every fifth day when Tracy gives him the ball.
"I think he can still be very, very effective,"
the Rockies' skipper said.
"He has incredible know-how. He's an incredible pitch-maker. When he's right, he can carve a strike zone up."
Of that, we have no doubt. Moyer might not have the velocity, but he truly is a master tactician and artist, and the strike zone is his canvas.
Be sure to follow Beard And Stache on Twitter 
@BeardAndStache
, 
and also Adam 
@Adam_Parker43
, Like our Facebook page 
HERE
!