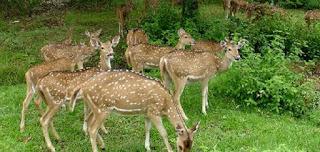 The Peppara Wildlife sanctuary is located at a distance of about 50 kilometres from the city
of Thiruvananthapuram in Kerala. The sanctuary lies en route to Ponmudi from the capital city and spreads over an area of 53 square kilometres. The sanctuary is spread over the Western Ghats and is considered to be one of the most beautiful places in all of Kerala. Established in the year 1938, this sanctuary is a mix of dense tropical forest, rocky terrains and a dam site which makes it a great place to visit and spend time in.
Flora and Fauna
The flora found in this wildlife sanctuary is mainly of the tropical evergreen, deciduous, semi evergreen trees and sub-tropical vegetation. There are also eucalyptus plantations in some parts of the sanctuary which are harvested for medicinal purposes. As the sanctuary is widespread over a diverse terrain, there is difference in flora according to the terrain. The forest belt can be separated into three distinct belts. The southern hilltop sub-tropical forests carpet the higher altitude areas that are above 1000 metres, the west coast semi-evergreen forests cover smaller hills and hillocks of 150 to 1050 metres and the lower slopes of the hills towards the southern side are covered mostly by the evergreen deciduous trees. The lower slopes with the southern mixed moist deciduous vegetation accounts for more than 60 per-cent of the flora that can be found here.
When it comes to fauna the sanctuary is really rich in its terms. The main attraction of this park would be the elusive and royal tigers. Other than these wonderful creatures, big cats such as panther and leopards can also be found. The park is also home to herbivores such as deer, sambar, barking deer, gaur, elephants, mouse deer, Nilgiri Langur, wild boars, lion tailed macaque and spotted deer. Rodents such as Malabar giant squirrel, mongoose, forest rats and bush tailed squirrels can also be found here. There also different kinds of reptiles such as snakes and lizards living in its dense forests. Wild dogs have also been spotted and recorded here. The sanctuary is also home to many species of birds which are indigenous and migratory. Some birds that you can see when here are Malabar Grey Hornbills, White bellied Tree pie, Sunbird, kingfishers and wood pigeons. 
Activities
Bird Watching- This is one of the best things to when here. There is a wide variety of birds that have made this sanctuary their home. One should carry a pair of binoculars while visiting this place as the birds here are mostly roosting on the high trees.
Boating- this leisure activity is one of the most tranquil things that you can do when here. Boating on the water reservoir created by the dam is a relaxing activity that lets you take in the wild at your own leisure. Trekking- Permission and notice for trekking has to be given in advance to the forest department so that guides may be arranged for this activity.
Tribe visit- the sanctuary is home to 13 tribal settlements. Their way of life is a very cultural one and has not been poisoned by urbanization. A chance to see them in their daily lives is an exhilarating experience.
Accommodations and Restaurants
Tamarind KTDC hotel (Neyyar Dam), Hycinth Hotel (29.7 kms away), Indraprastha (19.1 Kms away), Jas Hotel (29.6 kms away), Teekay palace (29 kms away) and Indrapuri Rajdhani (29.1 kms away) are some of the places which are in the vicinity of the sanctuary that you can put up in. Some of the nearby places you can eat in if you do not wish to take packed food while visiting are Cafe Mojo (0.4 kms away), Oasis Pick and Pack (1.7 kms away), Taj Hotel (1.7 kms away), Ambrosia (2.5 kms away), Wishbone (2.6 kms away), Dakhani Degh (2.7 kms away) and Palm Top (2.9 kms away).
Best Time to Visit
October to March months are the best time to visit as the weather conditions is ideal. Getting In
The nearest railway station is that of Trivandrum which about 50 kms is away while the nearest airport is 56 kilometres away in Thiruvananthapuram.