I can't tell you how many times I've gone to make cookies and I didn't have any butter – or flour – and didn't make cookies because I thought I couldn't! My twin sister no joke gave me a 4 POUND bag of chocolate chips for Christmas. She knows I love adding chocolate chips to pancakes, muffins, waffles, smoothies, or just a handful for a snack!
So this GIANT bag has been in my pantry and before my kids eat it all by the handful I thought I would make cookies. I went to Pinterest and searched for chocolate chip cookies and a few of the posts were for flourless cookies. Huh? Could that work? I read about a dozen recipes, and read the comments for those recipes – some cookies turned out flat as a pancake and others turned out perfectly.
So I decided to give it a shot and these cookies are delicious – no flour – no butter and Gluten Free!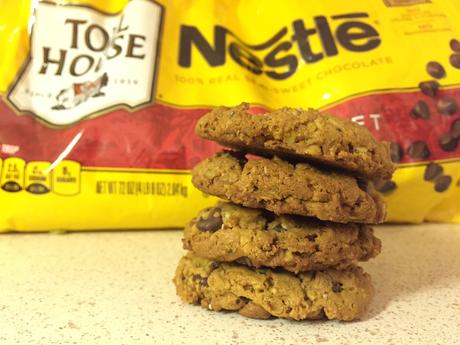 Peanut Butter Chocolate Chip Oat Cookies
great cookies made with no butter or flour!
Servings Prep Time
4-5dozen 5 minutes
Cook Time
12minutes
Servings

Prep Time

4-5dozen 5 minutes

Cook Time

12minutes
Ingredients
3

cups

peanut butter

3

cups

brown sugar

packed

3

cups

oats

6

eggs

slightly beaten

1

tablespoon

vanilla extract

1

tablespoon

baking soda

1

teaspoon

salt

2

tablespoons

chia seeds

(optional)
Instructions
In a large mixing bowl add all the ingredients except the chocolate chips and mix at low speed for 2 minutes. Add the chocolate chips and mix for another 30 seconds. Chill the batter for about 15 minutes. Preheat oven to 350 degrees. Bake for 10-13 minutes until the edges brown. Let the cookies cool on the rack for at least 5 minutes before moving to a cooling rack - they are very delicate right out of the oven.
Recipe Notes
This cookie recipe makes a TON of cookies, so feel free to half the recipe.