Sweet lovers must will be amazed by this lovely and divine recipe. The secret behind this recipe is in the simplicity of the method the Pay Day Candy Bars is made in.  Thinking of impressing someone than this is the perfect recipe for you, it is both simple and easy to make both for amateurs and pros on the kitchen floor. Having Pay Day Candy Bars will satisfy your palates and will leave an ever lasting unique taste on your taste buds. You can trust me on this when I say this Pay Day Candy Bars recipe  will leave and ever lasting impression and is a dish that can also be enjoyed on its own as well as with any meal (e.g. your healthy lunch meal), goes well with any type of bru, I love it with wine.
Ingredients:
5 caramel squares
1/4 cup milk
1 teaspoon peanut butter
1 tablespoon corn syrup
1/2 teaspoon vanilla
1/2 teaspoon salt
1 1/4 cups powdered sugar
20 caramel squares
1 tablespoon water
2 cups dry roasted peanuts (slightly crushed)
Directions:
Combine the first six ingredients in a sauce pan.
Cook over low heat until the caramel has melted and stirs smooth.
Add 3/4 cup powdered sugar and stir to mix in.
Reserve the remaining sugar.
Turn heat to medium high.
Using a candy thermometer, cook caramel mixture until exactly 230F while stirring often.
Remove from heat, let cool for a few minutes, and add remaining powdered sugar.
Use a hand mixer to beat in the sugar for a couple minutes.
Let candy cool for 20 minutes.
Divide candy into eight equal pieces and form each into 4 inch logs.
Place on wax paper and let cool for one hour.
In a double boiler, add remaining caramels and water.
Melt until smooth.
Remove from heat, but keep hot water under the caramel so it doesn't firm up.
Use a pastry brush to coat one of the logs with hot caramel.
Roll in peanuts in a shallow dish.
If any spots are not completely covered in peanuts, apply more caramel and stick back in peanuts.
Repeat with the remaining logs.
Allow to cool completely before eating
Enjoy!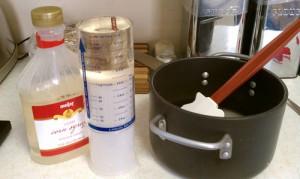 Photo by: Rex Roof