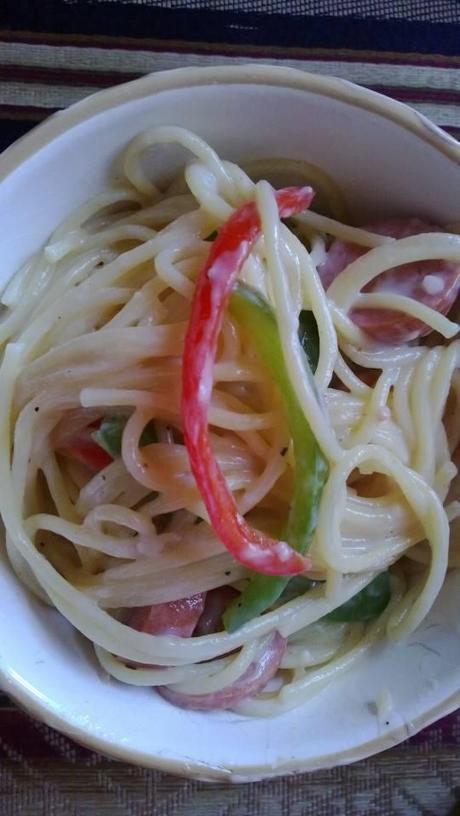 One of my favorite things to make and eat I would say is pasta. I make it once a week without fail. But – making it so often – I try to mix it up some so it doesn't get boring. As I was walking home from work today – I made my usual call to my twin sister. She's driving home from work while I am walking home – so what do we talk about most being food bloggers – FOOD!
I told her I had spaghetti and turkey kielbasa and was thinking of making something with it when she suggested adding peppers (onions for me/she hates onions) and making a cream sauce with Cajun seasoning. I had everything but the peppers, so a quick dart into a small market on my way home and I was set. 30 minutes after walking in my door – dinner was served! Thanks Biz for the idea!
Print Pasta with peppers and onions in a light Cajun cream sauce
Yield: 6 people
super easy to make!
Ingredients
8 oz. cooked spaghetti
1 package turkey kielbasa (it was 2 links)
1 green pepper, sliced
1 red pepper, sliced
2 cloves of garlic, chopped
1/4 white onion, sliced
2 tablespoons butter
2 tablespoons flour
2.5 cups skim milk
1 teaspoon Cajun seasoning spice (it's spicy - so add more if you like it spicier)
Instructions
In a big pot, bring water to a boil and cook the pasta until done - 10 minutes.
Meanwhile, in a large skillet, add the peppers and onion and garlic and cook for a few minutes. (I sprayed the pan with Pam Cooking spray first). Add the kielbasa and cook for about another 4-5 minutes. Remove the peppers and kielbasa from the skillet and set aside.
In the same skillet, add the butter and let that melt. Add the flour and using a whisk mix it together (it will look kind of clumpy)
Add the skim milk and Cajun seasoning and stir, using a whisk until the sauce is smooth and thickened about 5 minutes.
Add the peppers and kielbasa back into the sauce and add the spaghetti and stir to incorporate all the ingredients.
*If the sauce seems to thick, add some of the pasta water, 1/4 cup at a time until you get the desired consistency.
Schema/Recipe SEO Data Markup by ZipList Recipe Plugin2.0
http://www.slim-shoppin.com/pasta-with-peppers-and-onions-in-a-light-cajun-cream-sauce/
And – there is enough leftover for my lunch tomorrow! Score

***
On the exercise front – I walked home from work 1.75 miles and then my husband and I hit the gym and I did 40 minutes of the elliptical at the highest level (25!)
I was watching extreme weight loss – it was a great episode – and I liked that Chris Powell worked with someone in their 40′s – showing it's never too late to get where you want to be.
(Spoiler alert if you haven't watched it yet) – I felt bad that she gained 30 pounds in FOUR weeks when she was already approved for skin removal surgery! (9 months into her weight loss!) Gaining that much weight in such a little time cost her the chance to have it, so she really had to dig deep to make it to the finale. I must say – she looked AMAZING at the finale.
And even though I worked out twice – today is day ONE of the plank work out for 30 days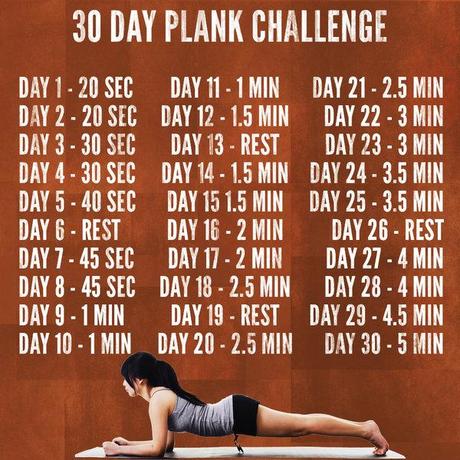 I know this form is wrong – her back not straight.
So day 1? 20 seconds – not bad at all!
Did you watch extreme make over weight loss edition – what did you think of tonight's episode?