Scott is very much a "meat and potatoes" kind of guy, well more the meat. He actually hates baked potatoes. Anyway… I think if he could have a roast or some sort of venison for every meal he would be happy.
Now he does a fantastic job of indulging my love of vegetables and readily goes along with the fact that I only cook meat a few times a week. So when I make a hearty dish like roasted chicken thighs he is pretty happy.
Skin on chicken thighs are key in this dish, they add so much flavor while cooking. But I do take the skin off before eating them. Using smoked paprika adds a nice level of complexity and flavor and these are excellent with sweet potatoes and a veggie rice pilaf. A very typical Midwestern meal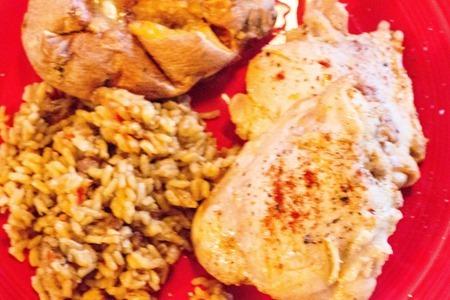 Paprika Roasted Chicken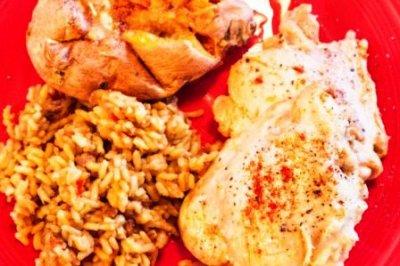 Prep Time: 5 minutes
Cook Time: 30 minutes
Keywords: entree chicken
6054909
Ingredients (Serves 4)
1 pound chicken thighs
1 tsp smoked paprika
Salt/Pepper
Olive Oil
Instructions
Preheat oven to 420
Add oil to a dutch oven. Add chicken and sprinkle with smoked paprika, salt/pepper.
Cook skin side down for 5 minutes. Turn chicken over; cook 2 minutes.
Place pan in oven. Bake at 420° for 20 minutes or until done. Let stand 5 minutes.
Powered by
Recipage