Pan Roasted Steak and Onions
This lovely recipe is fit for steak lovers. If you are thinking of making stake this valentines day and you haven`t come up with a recipe try this pan roasted steak and onions recipe and impress yourself and your loved ones. This pan roasted steak and onions recipe is simple and easy to make, if you are a first timer in kitchen there is nothing to worry about just have a good time keeping while you are cooking and you`ll be more than satisfied with your results. Having steak, is lovely and romantic dish for valentines day, this pan roasted steak and onions recipe  will leave and ever lasting impression and is a dish that can also be enjoyed on its own as well as with any meal (e.g. your healthy lunch meal), goes well with any type of salad.
Ingredients
1 tablespoon extra-virgin olive oil
2 tablespoons balsamic vinegar
1 tablespoon Worcestershire sauce
1 tablespoon Dijon Mustard
2 cloves garlic, minced
1 pound flank steak
1 tablespoon cracked black pepper
½ teaspoon salt
1 cup fat free chicken broth
1 medium onion, cut into ¼" thick rings
Directions
In a large no aluminum baking dish, combine the oil, vinegar, Worcestershire sauce, mustard, and garlic.
Add the steak; turn to coat.
Cover; refrigerate for 30 minutes or overnight, turning once.
Coat a nonstick skillet with cooking spray.
Place over medium-high heat.
Sprinkle the steak with the pepper and salt.
Brown for 2 minutes per side (for medium-rare).
Remove the steak from the skillet; cover the steak loosely to keep it warm.
Reduce the heat to medium.
Add the onion slices to the skillet and cook until golden brown, about 4-5 minutes per side.
Add the remaining broth as needed to prevent the onions from sticking.
Thinly slice the steak across the grain; serve with onions.
Enjoy!
Liked this recipe than you`ll enjoy making these recipes as well.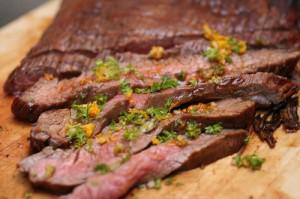 Photo by thebittenword.com

Rating: 0.0/
5
(0 votes cast)