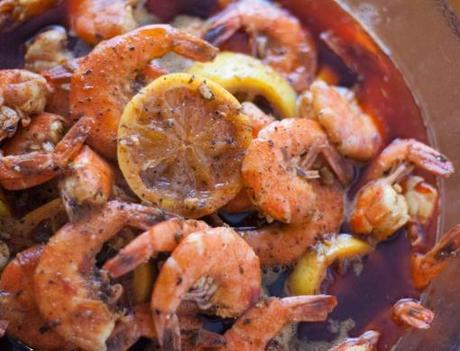 Paleo New Orleans Style BBQ Shrimp
Yep, here is another delicious Paleo meal that looks like it takes forever, but really is super easy and tastes even better if left to sit for a while (like so many other famous New Orleans dishes). Years ago I took my first, and only, trip to New Orleans. It was the October right after 9/11 and I was there with my then-best friend. My father had told me so much about the restaurants in that city, I owned an antique print of the Court of Two Sisters, and I had a huge agenda listing all the great restaurants we NEEDED to visit. But one night we were strolling around and dropped into some little restaurant on one of the squares where I tried New Orleans Style BBQ Shrimp, and I fell in love.  The best part is these are Paleo New Orleans Style BBQ Shrimp not by design, but by the nature of their original design. I love that. No faking it here, just pure and simple Paleo New Orleans Style BBQ Shrimp. This recipe is inspired by this recipe.
Paleo New Orleans Style BBQ Shrimp
Print
Paleo New Orleans Style BBQ Shrimp Recipe type: 
Entree
Serves: 
4
  Ingredients
2 lbs shrimp, unpeeled
½ lbs butter
4 cloves garlic, crushed
1 teaspoon dried thyme
1 tablespoon dried basil
1 tablespoon dried oregano
2 tablespoons Paul Prudhomme Seafood Magic seasoning
2 tablespoons creole seasoning
1 teaspoon paprika
¼ teaspoon cayenne pepper (optional)
1 tablespoon black pepper
4 oz Tabasco sauce
2 oz Louisiana hot sauce (I used Franks)
2 Tablespoons Worcestershire Sauce
2 lemons, sliced and seeded
1 cup dry white wine
Instructions
In a large saute pan, large enough to accommodate all the shrimp, melt butter and add all ingredients except shrimp.
Bring to a low boil and allow to cook for a moment or two, stirring frequently.
Add shrimp and cook for 5 to 10 minutes until shrimp are just fully cooked.
Be careful not to over cook.
Serve immediately or allow to steep in the juices, covered to stay warm.
WordPress Recipe Plugin by

EasyRecipe
3.1.09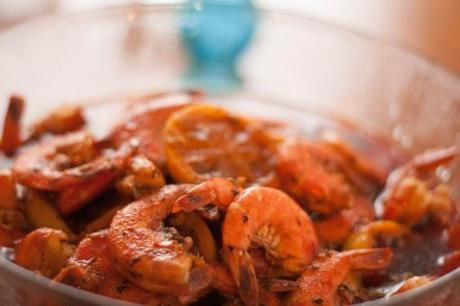 Paleo New Orleans Style BBQ Shrimp