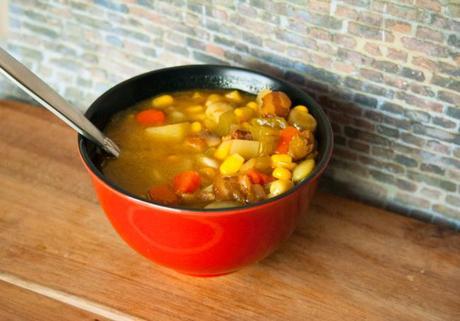 I have been on Weight Watchers for a few weeks now. This is actually my second Weight Watchers  attempt in the last year.  I love Weight Watchers because it really does work if you work the system. I tend to use mostly fresh, homemade foods so it requires a bit more work on my end to keep up with Weight Watchers (since you have to make "recipes" for all of your homemade foods) but ultimately Weight Watchers keeps me from overeating and has helped me lose a total of 14 pounds to date!
One of the easiest foods to make is soup AND soup is so low in Weight Watchers points (which is a good thing, means you can eat a lot more of it!). Weight Watchers also encourages you to eat low calorie foods that are full of protein and fiber. This equates to a lot of fruits and vegetables with very little carbohydrates. That sounds like it is right up my dietary alley.
I decided to through together a tasty, easy and healthy Paleo corn chowder. I hope you enjoy it as much as I do!
Paleo Corn Chowder
5 slices uncured bacon diced ( I use my kitchen shears  to cut the bacon)
1/2 of a medium white or yellow onion
1 large carrot, diced
1 large celery rib, diced
1 cup diced potatoes
64 oz of Organic Chicken Stock
pepper
1/2 teaspoon Organic Cumin
1/4 teaspoon Organic Chili Powder
3 Tablespoons butter
1 bag of frozen corn
1 bag of frozen lima beans
Method
In a large Stainless Steel Stockpot over medium heat, cook the bacon until it has rendered its fat and has just become crispy.  Add the onion, carrot and celery and cook until the onions are translucent and the carrots have begun to soften. Add the potatoes, stock and season with salt, pepper, cumin, child powder and butter. Bring to a boil and simmer until potatoes have softened. Add the corn and lima beans and reseason if necessary. Allow to cook an additional 15 minutes or until the flavor has deepened. Reseason if necessary. Serve as is, or use your Hand Blender  to puree a bit for a naturally "creamy" soup.