By now you are probably asking yourself, why is this lifestyle blog revolved around baking? I ask myself the same question...sometimes. BUT, when your baking adventure results in Orzo Salad, it's never a bad time to start blogging the recipe even though your last 38502345 posts have been recipes.
 For those who are still doubting, this is not a dessert. Gasp. I know. This is not a drill. This is the real deal.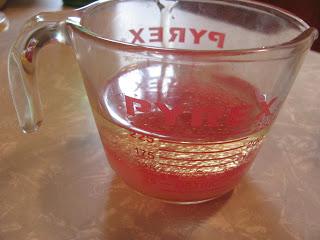 First off, I make and refrigerate a dressing for the salad. Red wine vinegar, honey, fresh lemon juice, and olive oil make this a light and tasty sauce!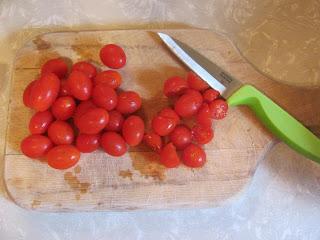 Next I slice up a lot of cherry tomatoes. These tomatoes are like candy to me!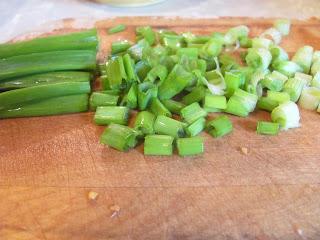 After slicing your tomatoes in half (or however you like), it's on to the green onions. I love how ombre these onions look as they're being cut. Is that silly?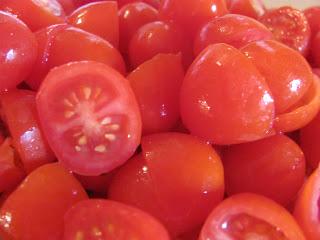 Okay I had to show you the tomatoes before I continue on to the next step. Don't they look like sumertime?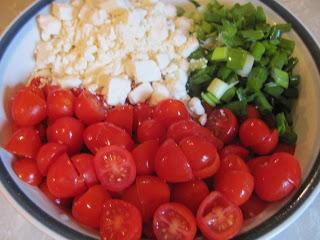 Anyways, I put the tomatoes, green onions, and a package of feta cheese in a bowl.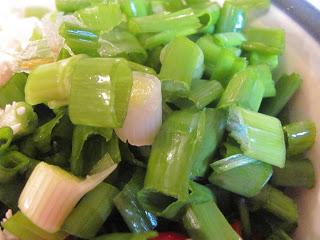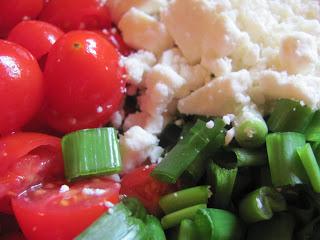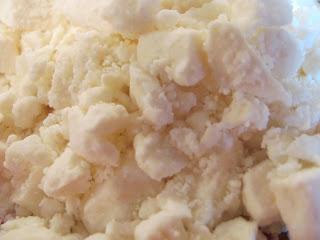 Don't these ingredients look so fresh and delicious in the bowl? I may or may not be salivating.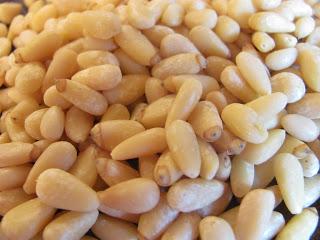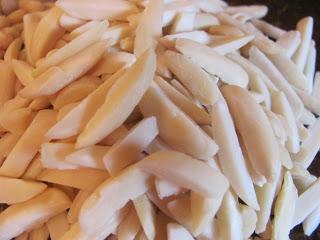 The next step is to get out the nuts you want to put in the salad. I use a half a cup of pine nuts and a fourth of a cup of almonds.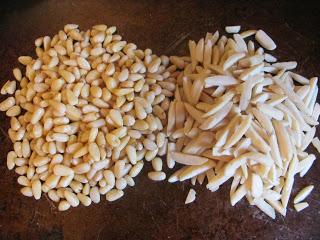 Toss the nuts on a baking sheet to roast them.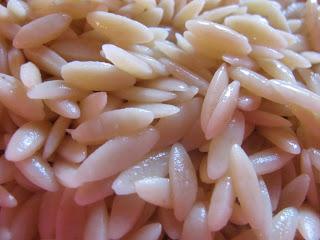 Next, boil the orzo in chicken broth and water until tender.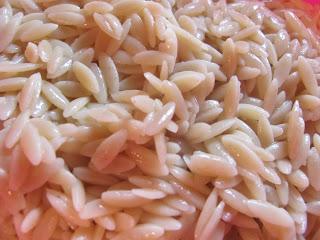 Strain the orzo and put it into a large bowl.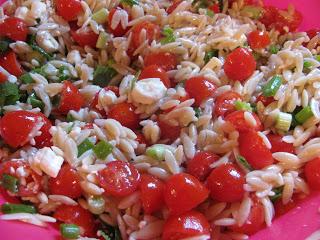 Add all your delicious tomatoes, green onions, feta cheese, and dressing, giving all the ingredients a nice mixing.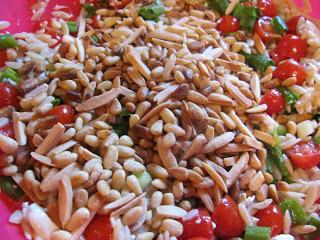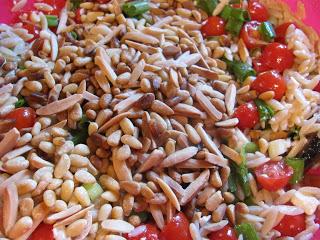 Add your toasted nuts on top of your salad.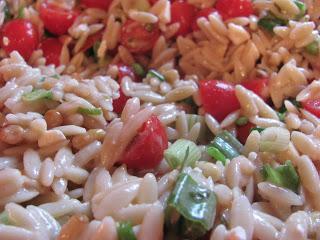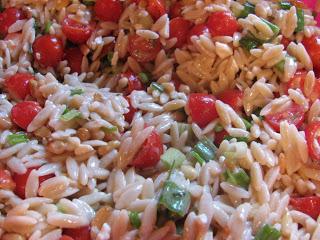 Mix everything once more, and you are finished. Delightful orzo salad is now yours to eat. I know you are dying to make this now, so here's the recipe.
Orzo Salad
2 tablespoons fresh lemon juice
6 cups chicken broth (I use 4 cups and 2 cups of water)
1 pound orzo (I usually make just a half a pound)
2 cups red and yellow grape tomatoes, halved
1 7-ounce package feta cheese
1 cup chopped fresh basil
1 cup chopped green onions
1/2 cup pine nuts, toasted
Whisk vinegar, lemon juice, and honey in small bowl. Gradually whisk in oil. Season vinaigrette with salt and pepper. (The salt and pepper is optional)
Bring broth to boil in large heavy saucepan. Stir in orzo, reduce heat to medium, cover partially, and boil until tender but still firm to bite, stirring occasionally. Drain. Transfer to large wide bowl, tossing frequently until cool.
Mix tomatoes, feta, basil, and green onions into orzo. Add vinaigrette; toss to coat. Season with salt and pepper. Add pine nuts; toss. Serve cold or at room temperature.