It feels like forever since I've done a OOTD post. It's so hard to take outfit photos in Scotland throughout the winter. It's pitch black when I leave for work in the morning and it's pitch black by the time I get home in the evening, so it's lovely to see the days finally getting lighter and longer.
I also have to wear a uniform for work and I don't think anyone wants to see photos of me in a black fleece, black combat trousers and black wellies!
Today I'm going for Sunday dinner at my Mums which calls for a simple jeans and a jumper outfit.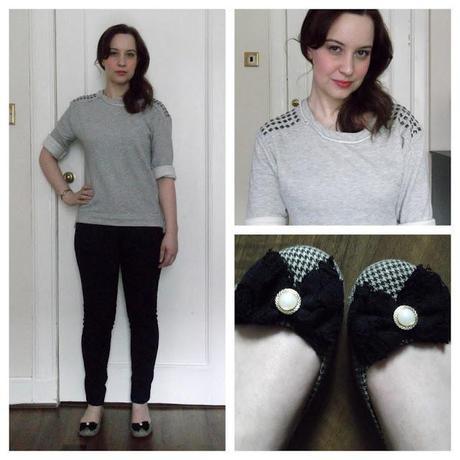 Studded Sweatshirt | Mango
Skinny Jeans | American Apparel
Ballet Pumps | Stasia
The
studded sweatshirt
was a little final reductions bargain from Mango. Full price it was £34.99 and I snapped it up for £16.99. It's super comfy and I love the studded shoulder detail. I prefer the proportions when I roll up the sleeves.
The jeans are the infamous
Easy Jean from American Apparel
. They are the best fitting and most comfy jeans I have ever owned. I'll definitely be purchasing them in a few more colours at some point. 
At over £60 they certainly aren't cheap, but personally I think they're worth every penny if you have an hourglass figure like mine. They are super high waisted which prevents the oh-so-horrific builders bum look, and makes them really versatile. They're also long enough to fit just about anyone and can be turned up easily to fit wee shorties like me! In the summer I'll be turning mine up another inch or two to show a bit of ankle cleavage, cheeky!
The adorable little ballet pumps are from
Stasia
. They are so Audrey Hepburn. I love the herringbone pattern, the lace bows and pearl look buttons. I think these are just the most perfect ballet pumps. They weren't all that cheap (although they are now available in the sale), but they are so comfy. They have a nice, thick, comfy sole and there's none of that feeling of having to soften them out when you first start to wear them.
I've kept my jewelry minimal as i just want to be comfy today. I'm just wearing a little watch from Urban Outfitters and a delicate necklace with a double heart pendant from Magnolia, both of of which I've shown before in outfit posts.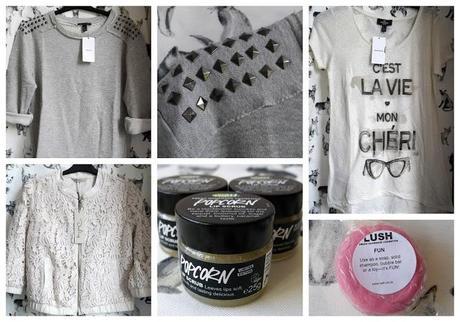 As I mentioned, I picked up the Mango jumper after receiving one of those Final Reductions, get it quick, emails! I also got a few other Final Reductions bits.
The
Cest La Vie t-shirt
was also from Mango. I got it for £6.99 down from £14.99. You can never have too many cute t-shirts!
The little cream jacket was from Darling and I am absolutely in love with it. It's by far the best bargain I picked up in this years sales. I got it for £11 down from £55! Unfortunately it's no longer available on the website by they do still have some amazing bargains left.
Finally, I was having a nosey around the LUSH website and I noticed a tiny little link in the corner which said Happy Hour sale and I clicked on. It turned out LUSH was having a semi-secret sale for one hour only at the exact moment I happened to be browsing the site! They were getting rid of the final bits and pieces of their Christmas stock.
I snapped up three of the
Popcorn lip scrubs
for £2.60 each instead of £5.25. Weirdly enough, these lip scrubs appear to be sticking around as they are still available on the website, although now for full price.
When my order arrived I also received a little sample of LUSH's Fun bar. It smells absolutely amazing and I can't wait to try it out.
I hope you're all having a wonderful weekend!
Lisa x