Hey Lovelies, how are you all? I hope that everyone is fabulous and looking forward to Christmas (what? I know it's still weeks away, but that doesn't mean we can't get excited ;P)
It might not be my birthday for a couple more days, but the weekend just gone was officially birthday week, as the other half and I descended on Sheffield and London to see the brilliant Bill Bailey and Distant Worlds: Music from Final Fantasy concert.
What I Wore
: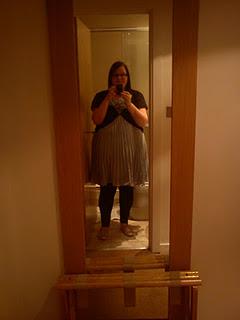 From a distance....oooh oooh ooh!!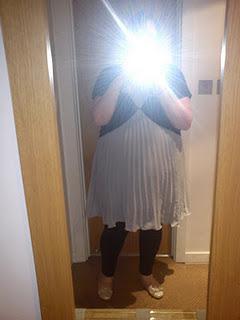 Um yeeeeah, I forgot to turn the flash off for
this one...whoops!!
Dress
: New Look
Shrug
: "Borrowed" from Mother
Leggings
: Evans
Shoes
: Primark
I know I've done a couple Outfits of the Day, in the past, but this one I feel quite self conscious about, because it's the first time that I've ever included a full length picture of myself. I don't think the dress is entirely flattering, but I don't know if that really matters, because I felt amazing wearing it, and confidence in an outfit is the most important factor, in my opinion.
Hair
: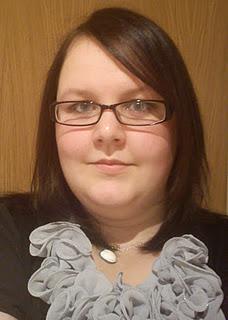 I loved my hair, I think because I'd added a drop of Macadamia Oil to my Hair Conditioner, which helped it look really shiny and soft. I do hate that my hair looks quite fine, but it still looks pretty nice me thinks :)
This picture also shows the ruffled on my dress hehe, and you can just see my Totoro necklace :D
The Royal Albert Hall
: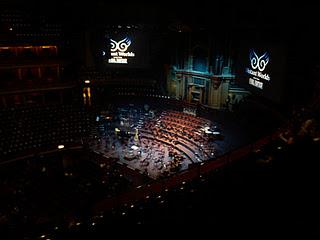 We also took advantage of our time in London Town, with a visit to both the Natural History Museum (I can now officially say that I have seen an actual dinosaur, which was kind of surreal!!) and the Victoria and Albert Museum (everyone HAS to check out their Theatre and Performance Section. It is really interesting!)