I LOVE meals that you cook in one pot or skillet. For busy weeknight dinners where you want minimal dishes afterwards, it's the way to go. I've also started to cook pasta with all the other stuff and it works! Usually if I had pasta in a casserole I would cook the pasta separately and add it to the dish. Here you can add the dry pasta to the skillet- put a top on it and in 15 minutes it's done!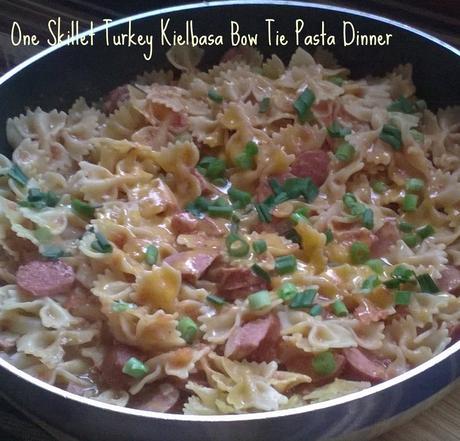 (photo credit – my 13 year old daughter Claire) Print One Skillet Turkey Kielbasa Bow Tie Pasta Dinner
Prep Time: 5 minutes
Cook Time: 15 minutes
Total Time: 20 minutes
Yield: 4 servings
Super easy and fast weeknight meal - your family will definitely love it!
Ingredients
1 Tbsp coconut oil (you can use olive oil instead)
1 lb Turkey Kielbasa (I bought the Light & Fit brand from Aldi)
1 cup diced onion
1 Tbsp minced garlic (about two fresh cloves)
2 cups Chicken Broth
1 (10 oz) can diced tomatoes (I pureed it to make it smooth)
1/2 cup skim milk
8 oz dry pasta (I used bow tie pasta)
1/2 teaspoon salt and pepper, each
1/2 cup shredded Cheddar-Jack cheese
1/3 cup chopped green onions, for garnish
Instructions
Add coconut or olive oil to a big saute pan over medium high heat. Add onions and sausage and cook until lightly browned. Add garlic and cook for about 30 seconds.
Add chicken broth, tomatoes, milk, pasta, and seasonings. Bring the mixture to a boil, cover, and reduce heat to low. Simmer for about 15 minutes, or until pasta is tender.
Turn off the heat and stir in 1/2 cup of cheese. Sprinkle remaining cheese on top and cover for about five minutes to allow cheese to melt. Top with sliced scallions and serve.
Makes 4 servings.
Schema/Recipe SEO Data Markup by ZipList Recipe Plugin2.2
http://www.slim-shoppin.com/one-skillet-turkey-kielbasa-bow-tie-pasta-dinner/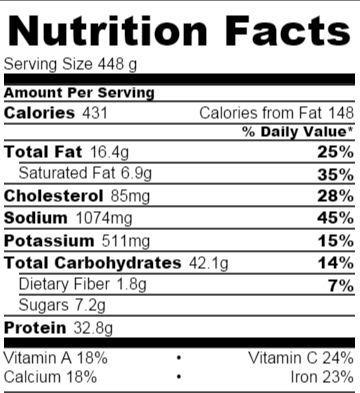 This was enough for 4 in my family and we had a little leftover too. (I have one son who is vegetarian, so he made a stir fry for dinner).
Which brings me to a question – do you have someone in your family that eats something else, either vegetarian, vegan, gluten-free and do you mostly fix 2 meals, or try to adapt the meal to accommodate everyone?