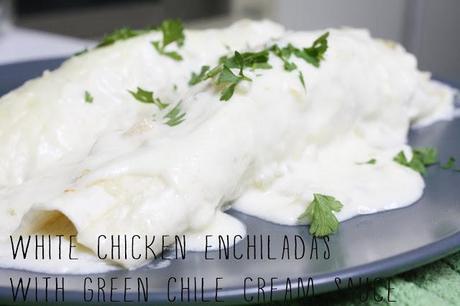 This enchiladas were so tasty that my husband demanded that I make them a second time in one week! Of course, I was like are you serious? And then I was shaking my head because when it comes to my husband and food...he was totally serious. The next time you have left over chicken or even better a left over rotisserie chicken just do me a favor and make these enchiladas.
Ingredients: 
8 soft flour tortillas
2 cups 

Monterrey jack cheese


2 cups cooked shredded chicken
3 tablespoons butter
3 tablespoons flour2 cups chicken broth1/2 tablespoon lime juice1 cup sour cream1 can refried beans 2 (4 oz) can diced green chilesfresh chopped cilantro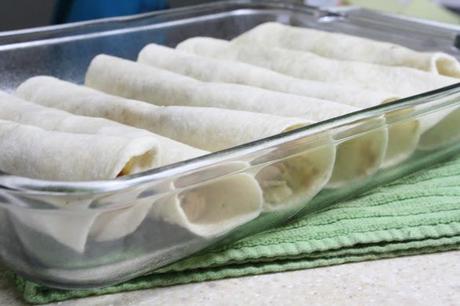 Directions: 
1// Preheat oven to 400 degrees and spray a 9x13 baking dish. 
2// Shred chicken. I just poached chicken breast and then shredded it in my kitchen aid. Add 1 cup of cheese to chicken and mix it up. 
3// Add a spoon full of refried beans to each tortilla and spread it. Then distribute a hand full of chicken mixture among tortillas. Roll up tortillas and place them in the baking dish with the steam facing down. 
4// In a large sauce pan melt the butter and then add the flour. Whisking continuously. Add chicken broth and lime juice and keep whisking until it gets smooth and bubbly. Once it thickens stir in the sour cream and chiles.
5// Pour sauce evenly over the enchiladas. Top it off with the last cup of cheese and pop it in the oven for about 25 minutes. Sprinkle some fresh chopped cilantro and dig in. 
Oh and you might want to put on your comfy sweatpants with this one folks. Just looking out for you! Enjoy. 
xoxo.