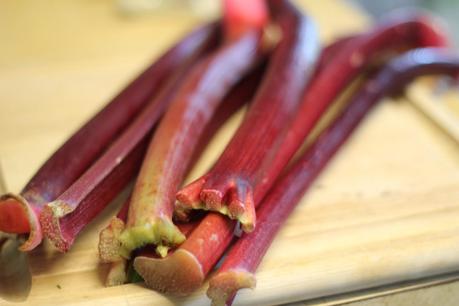 I made the most delicious Raspberry Rhubarb Crumble Pie! I've been making a pie each week thanks to my dad who has been requesting them. Although, he's only been urging me to bake blueberry pies (his favorite) I made a point to try something new. I've never baked with rhubarb and actually this pie was my first rhubarb experience, same goes with my father and everyone else. While I was super excited to make it and eat it my dad was a little weird about, not very surprising since he's really rooted in his ways. He loves blueberry pie and doesn't want anything else. Well, he had no choice and he was glad about it because after the fact he told me that now this pie has become his new favorite.
Whaddya know! I agree with him too! 
I decided to pair the rhubarb with raspberry. I know that there is lots of recipes that pair strawberry and rhubarb together so I decided to be a little different and I'm so happy I did. The simply sweetly tart combination of the two and the crumble topping it's like no other. Highly recommend this pie.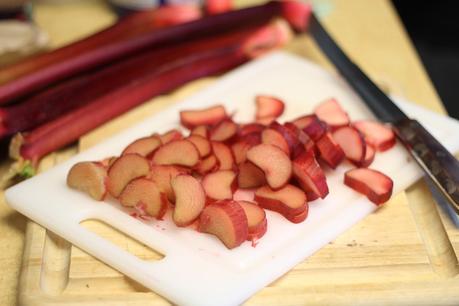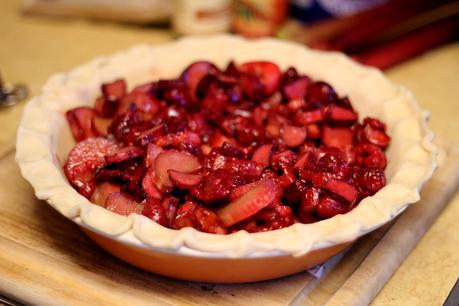 Ingredients: 
pie filling:
pie dough (my favorite recipe) 
3 cups rhubarb, chopped
3 cups raspberry, frozen or fresh
1 cup sugar
1 teaspoon lemon juice
2 tablespoons cornstarch 
crumble topping:
3/4 cup flour 
1/3 cup light brown sugar
3 tablespoon sugar
1 tablespoon cinnamon
6 tablespoons unsalted butter, cold cut into pieces
1// Roll out dough. Place it into a 9 inch pie dish. Mold it to the dish and put a fancy edge on it. Take a fork and poke the bottom of the dough. Refrigerate dough while you make the filling. 
2// Preheat oven 375. In a large bowl add the rhubarb and raspberries together. Combine the sugar, lemon juice and cornstarch. Mix everything together. 
3// In a separate bowl combine flour, brown sugar, granulated sugar and cinnamon together. Add cold butter and using your hands incorporate butter into dry ingredients creating clumps or crumbles. Sprinkle crumb topping on top of the raspberry & rhubarb evenly. Place pie in a heated oven and bake for about 1-1 1/2 hours or until it's bubbly and brown. If you feel like the crumb topping or the edges are getting too brown and the pie itself isn't baked all the the way through simply put a loose foil cover the pie.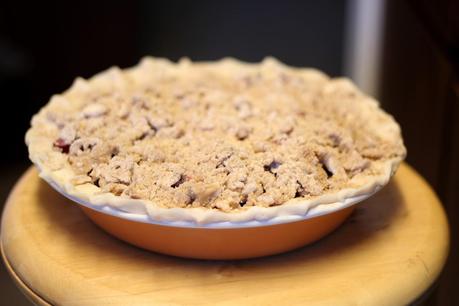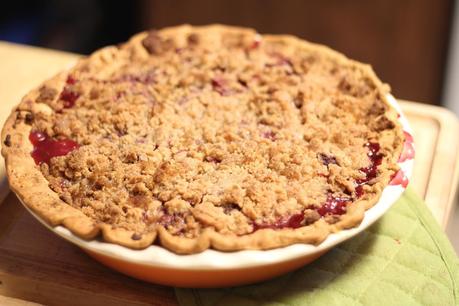 Ps: Try to wait until the pie is completely cooled down, all the flavors infused together! And ENJOY!
xoxo!