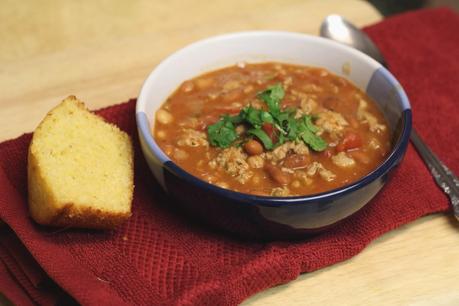 It feels like forever since I've posted a recipe on here so when I was cooking away in the kitchen yesterday I got a bit excited thinking this would be a nice thing to share!
I made quick and easy White Bean & Chicken Sausage Chili along with Homemade Honey Cornbread! Try it out this weekend for dinner.
White Bean & Chicken Sausage Chili
Ingredients:
2 tbsp olive oil
1/2 red onion, chopped
2 large clove garlic, minced
2 sticks celery, chopped
2 cups chicken broth
1 (15.5 oz) can great northern beans
1 (15.5 oz) can pinto beans
1/2 pound chicken sausage, casing removed
2 (14 oz) cans diced tomato with green pepper & onion
1 tbsp chili powder
1 tsp paprika
1 tbsp cumin powder
1/4 tsp cayenne pepper
1 tsp dry oregano
salt & pepper to taste
Directions:
1. In a large skillet add olive oil. Remove chicken sausage meat from the casings and add into skillet. Break up meat with potato masher or wooden spoon until meat is in bits.
2. Add onion, garlic and celery. Next, add chili powder, paprika, cumin, cayenne pepper, oregano to the meat and stir.  Cook everything together until the meat has browned and the vegetables are tender.
3. Lastly, add canned beans, diced tomatoes and chicken broth. Simmer chili on low for 30 minutes to allow it to thicken up! I used my potato masher before to mash some of the beans up inside the chili to help thicken it a little.
4. Serve with chopped cilantro, shredded cheese of chose and also some sour cream! Oh and don't forget to make cornbread. I can't eat chili without a slice of it!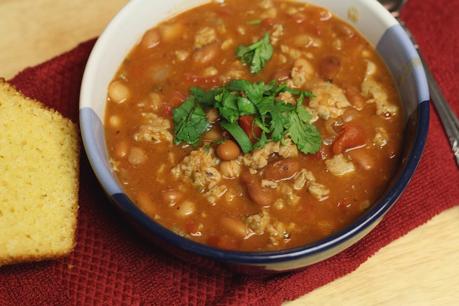 Honey Cornbread

Ingredients:
1 cup flour
1 cup cornmeal
1 cup buttermilk

(make it like I did!) 


1 tbsp baking powder
1/4 cup sugar
1/2 tsp salt
1/4 cup honey
1/2 stick butter, melted
2 eggs
Directions:
preheat oven to 375
1. Combine both flour, cornmeal, baking powder, sugar and salt.
2. In a separate bowl combine buttermilk, honey, melted butter and egg. Whisk ingredients together well.
3. Add wet ingredients into the dry and stir together so that everything is combined but do not over mix. Pour batter into a 8x8 greased pan and bake for 20-30 minutes or until golden and tested with a toothpick. Or use a muffin tin to make little individual cornbreads!
Enjoy!