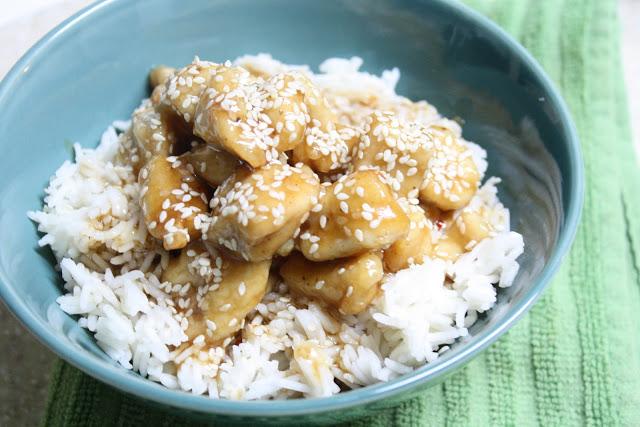 I thought I would share this really great Sesame Chicken recipe with you all. It's one of our favorites. Before we had Sebastian and we live in our first apartment we always order from this local Chinese take out place. It was the usual take out sort of place and with us working so much at that time and barely being home ordering out wasn't unusual for us. Now a days we order or grab food from somewhere only once a week, usually Fridays. And it's funny because we never order Chinese take out anymore! I just make it at home. Healthier versions of our favorites and even though it might not taste exactly the same because it wasn't smothered in death and then deep fried, it's still delicious and in the end you don't feel like you gained 147862 pounds. I don't know about you but sometimes all you need is some yummy Asian food to fill your tummy. You can do so many different things with this dish. Add veggies, like broccoli! I know next time that is getting adding. You can make noodles or rice. I have this current obsession with jasmine rice. But we enjoy it with brown rice as well. Enjoy!
Ingredients:1 pound chicken breast, cut into cubes1 teaspoon brown sugar1 teaspoon honey1/2 teaspoon garlic powder2 teaspoon sesame oil2 tablespoon rice vinegar 1/4 cup corn starch 1 cup chicken broth a dash of red pepper flakes (optional)3 tablespoon sesame seeds, toasted with a drop of olive oiljasmine rice or noodles 
Directions: preheat oven for 375
For chicken: Cut chicken into cubes. There's two way you can cook the chicken. One is going ahead and frying it up. If you do that I recommend that you dust the chicken cubes with flour and frying them in peanut oil. The other way you can do it is make the sesame sauce and baking the chicken in the oven. That is what I did. 
For sauce: Combine the following; brown sugar, honey, garlic powder, sesame oil, rice vinegar, chicken broth and corn starch in a sauce pan. Cook the sauce on low heat until it starts to thicken. 
As the sauce is thickening you can work on toasting the sesame seed. It's simple, just place a drop of olive oil on pan that's on low heat and sprinkle the 3 tablespoons of seeds in. Stir them constantly so that they don't burn. Once they turn a light golden brown they are done!
Next place the chicken cubes on a nonstick baking sheet with pour 1/2 of the sauce even over the chicken. Place it in the hot oven and bake the chicken for about 10 minutes and then flipped cubes with a spatula and bake for another 10 minutes. Meanwhile, boil the rice or noodles. Once the chicken is fully cooked place it over the rice and drizzle some extra sauce. Oh, and if you want some spice just a dash of red pepper flake will kick it up a notch. Yummy!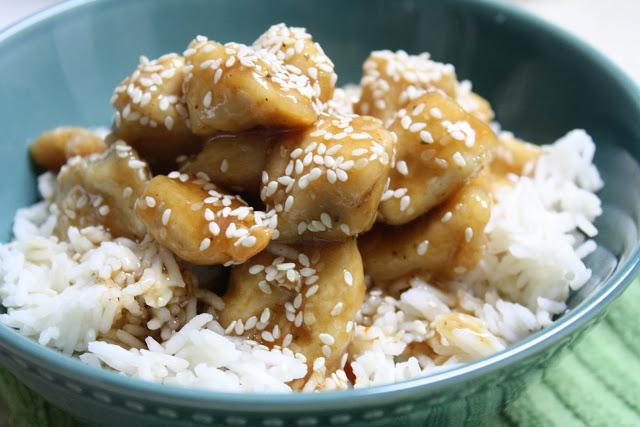 Remember that if you want to have the crispy breading to the chicken you definitely want to fry chicken with flour or cornstarch coating it. I was going the healthier route. Tastes great either way. Happy cooking!
xoxo.