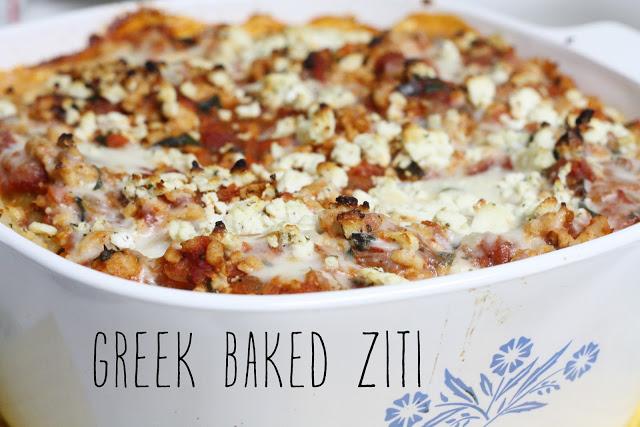 I always make some sort of pasta at least once a week. It's fun to mix up ordinary recipes and do different things with them. Like Baked Ziti, why not put a Greek twist to it! I got the idea from Rachael Ray's recip

e

. We loved it so much that Bobby and I have been having it for lunch at work for the past couple days. Hurray for leftovers. Next time you make a baked ziti do it this way!




Ingredients:




1 pound ziti




1 pound ground turkey




2 tablespoons olive oil




1 onion, chopped




3 garlic cloves, minced




1 carrot, shredded




salt & pepper




1- 15 oz can whole tomatoes




1 cup tomato sauce




1/4 cup fresh parsley




6 tablespoons butter




4 tablespoons flour




2 cups milk




1/2 cup grated Parmigiano Reggiano




1 cup shredded Mozzarella cheese




1/2 cup crumbled fetta cheese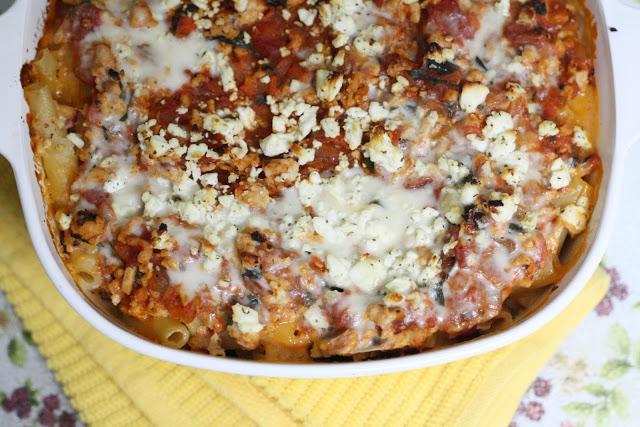 Directions: 
Preheat oven to 350. Get a large pot, fill it with water and turn stove to high. Boil ziti noodles until al dante. Not completely tender but almost. 
Next get a medium pot add olive oil and start to cook the ground turkey. Add onion, garlic, carrot and parsley. Cook until the veggies are tender. Add whole tomatoes and tomato sauce. Use a potato masher (those nifty things!) 
and break up the whole tomatoes. Season with salt & pepper and let it simmer for about 10 minutes on low. 

Meanwhile, in a sauce pot melt butter. Then sprinkle flour and whisk for about a minute. Make sure it's on low otherwise you will burn it! Then add the milk, stir. This will have to sit for about 5 minutes so that it can thicken. Take it off the heat and add both the grated Parmigiano Reggiano and shredded Mozzarella cheese and mix it together. Set aside.

Toss the pasta with the cheese mixture. Put 1/2 of the pasta into a casserole dish. Spoon about all of the red sauce saving about 1 cup of it to pour over the top of the dish. Now the rest of the noodles over the red sauce and then 1 cup of the sauce over the top (layers!). Sprinkle the feta on the top and pop it in the oven for 30 minutes until it gets all bubbly and brown.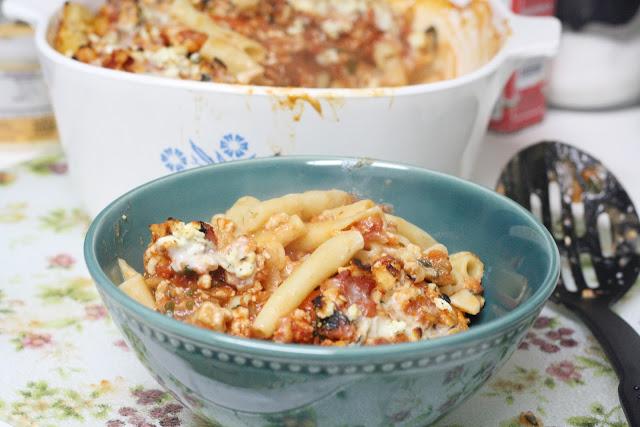 Enjoy! xoxo