I love making, and let's be honest, eating Asian food. It' amazingly yummy in my tummy. Just saying. Last night I made a wonderful Pork Teriyaki Stir Fry. It's not going to be one of those quick dinner meals since it has a few extra steps but really people you won't be disappointed. Guaranteed. 
Ingredients:
1 pound pork tenderloin
1/2 cup flour
2 teaspoon salt
1/4 cup vegetable oil
1/2 head of cabbage (about 3 1/2 cups), shredded
1 carrot shredded
1 bunch of broccoli 
1 red pepper
1 bunch of cilantro
1 cloves garlic
1/3 cup store-bought teriyaki sauce
1 tablespoon black bean sauce 
1 cup cooked rice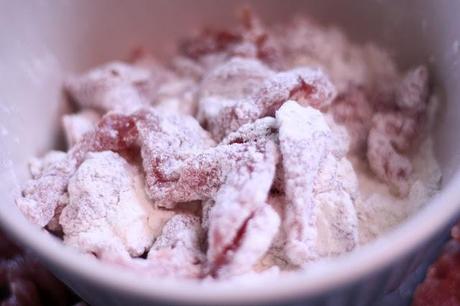 You want to cut the pork tenderloin in to small strips. Combine flour and salt, give it a quick stir with a whisk. Coat strips of pork in flour and shake of the excess.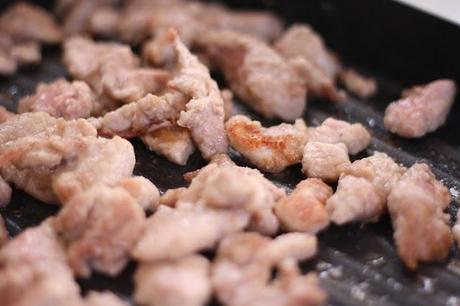 In a large non stick skillet heat 3 tablespoons of oil. If I had a Wok I would of been using that

(mental note: buy a Wok)

. Spread a single layer of meat on the skillet and let it cook for about 3 minutes or until the meat is crisp & brown, then flip to the other side. It took me two batched on the skillet. Once it's done transfer to a bowl.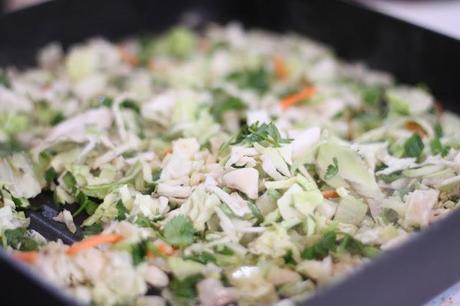 I used my food processor and pulsed cabbage, carrot, cilantro & garlic together. Add all that into the skillet with another tablespoon of oil along with the chopped broccoli & peppers. You can use whatever veggies you like!! Be creative.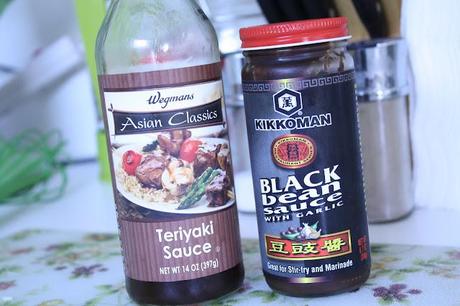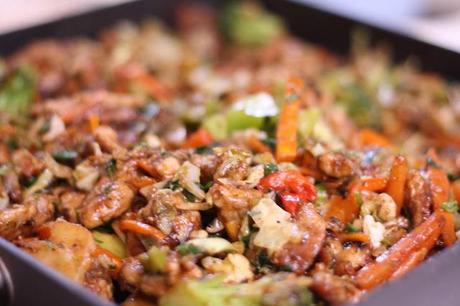 Once your veggies are sauteed toss the meat right in there with them and add your teriyaki & black bean sauces to it and cook for another 5 minutes. All you have to do is make some rice or noodles and garnish with some wontons & almonds and there you are! All set to chow down.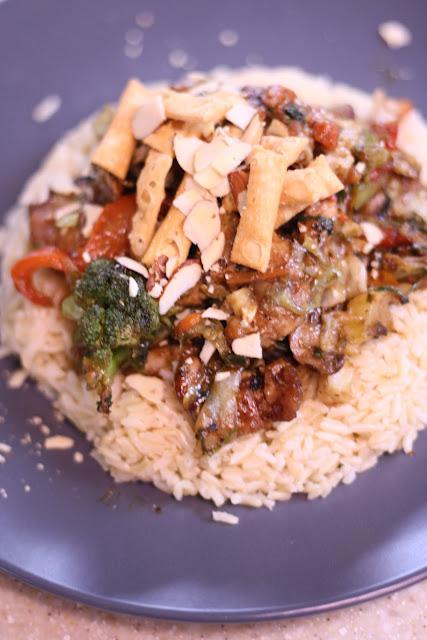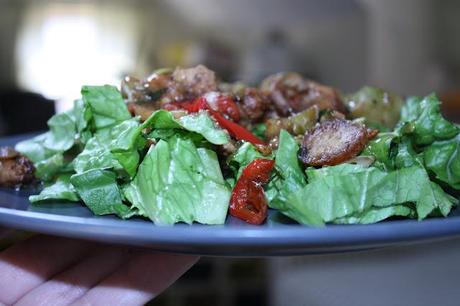 Oh and don't you forget about leftovers! Chop up some lettuce and on goes some pork teriyaki goodness  and you have yourself a Asian salad. Nom. Nom. Enjoy :)
♥A.