Here I go again. Another post about food. I'm sorry I can't help myself. All these good eats have me going bananas. Well, as you might already know I'm Hungarian. Both my parents are full blooded Hungarian and so growing up Hungarian cuisine was on our dinner table most everyday. Although you see me cook tons of delicious things, cooking Hungarian is a huge passion. I love to make things and feed them to my little family and have them taste a peace of my childhood. It's really give me full on joy. Tonight I'd like to share what we Hungarian's call "Csirke Paprikas". However, I'm not going to make you try to pronounce or even say those words so alas the simple definition is Paprika Chicken. Very simple to make but super yummy for the tummy. The main ingredient is as you can guess...Paprika!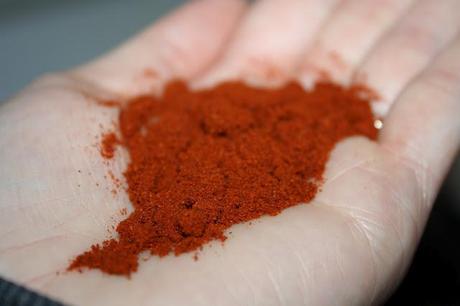 Ingredients:
chicken, I like to use skinless thighs and legs (about 2 pounds worth of chicken)
1 large onion
1 1/2 cup mushrooms
3 tablespoons olive oil
1 heap paprika (mild or sweet, I used sweet since Bobby doesn't care of spicy foods)
salt & pepper
2 bell peppers
1 large tomato
1 box couscous
Grab a large pan and heat oil on stovetop. Meanwhile finely chop onion. Gently cook the onion in the oil until their transparent and then add mushrooms. Remove from the heat and sprinkle a heap of paprika over the onions & mushrooms. 
I don't really measure too much when making Hungarian recipes. It's just how I learned from my father. Then again Europeans don't really measure much, just a pinch of this and a dash of that. So, as for the paprika I just alway use my palm to measure like the above picture. Yes, that amount looks about right.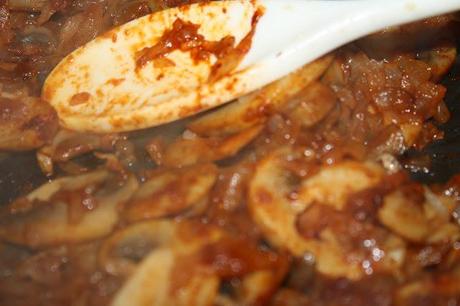 Add the chicken next and fry chicken with the paprika & onion on high heat for several minutes. Season the chicken with some salt and pepper, turn down heat to low, cover it and let it sit.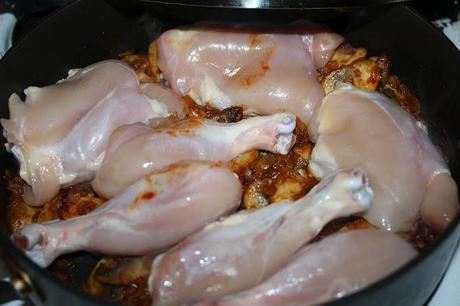 Next up remove seeds for the bell peppers, and slice them into slivers. Also peel the skin off of the tomato along with removing the seeds and chop.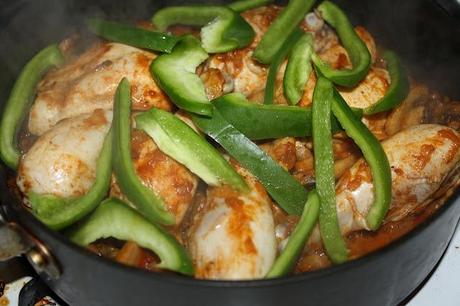 Add both peppers and chopped tomato to the chicken and cover with lid. Continue cooking until chicken is cooked all the way through. About 15-20 minutes. 
Growing up we always ate couscous with this dish. It's just how we went about things and I assure you it's amazing.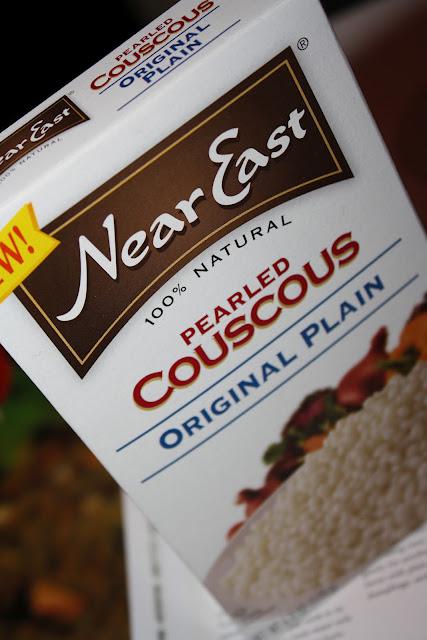 This is my favorite brand of couscous that I found at my local Whole Foods. It's actually called pearled couscous, I guess because the couscous is made a little bit bigger than usual. I'm going to let you in on a little secret when making your couscous! Don't listen to the directions on the back of the box. Boiling the couscous is just not that tasty. Instead take another pan and pour about 1 tablespoon of olive oil and heat on medium. Pour the couscous right over the oil and toast it.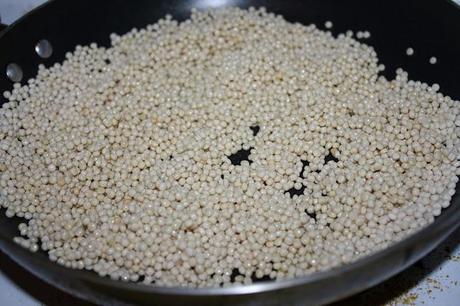 Constantly stir it until the pearls are lightly browned. Once their browned pour one cup of water right into the pan and slowly cook the couscous. This way with the couscous toasted they will cook in the water yet not be all sticky when done. Come on! Isn't that brilliant! Once you make your couscous like this there's no going back my friend. I kid you not.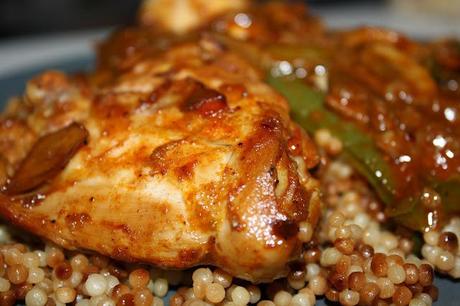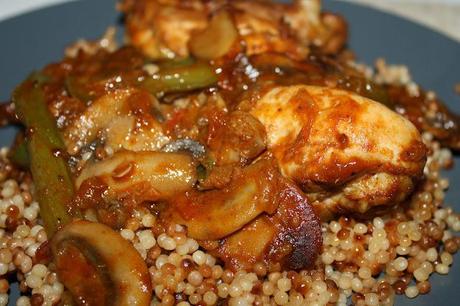 Scoop some couscous on a plate and top it with the Paprika Chicken and dig in! 
♥A.