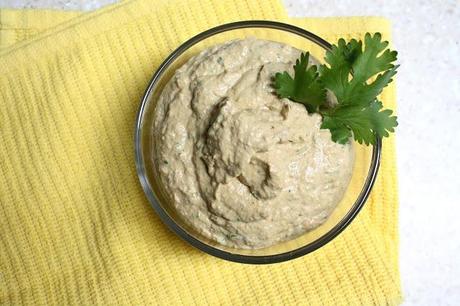 I took a three day hiatus from the blog. Sometimes you just need that, you know what I mean? It was a nice because I did some things that I don't normally have time for like give myself a fancy manicure which we all know that takes some time to do. Also I took Sebastian to see that new kid's movie out The Croods. Sebastian and I give it two thumbs up! We loved every second of it and I highly recommend it if you have a little one.
So, now that I'm back I wanted to share a fun hummus recipe with you. I adore hummus. I use my food processor the most to make all kinds of hummus. I'm on a huge cilantro kick lately and this Cilantro Ginger combo has become my favorite out of all that I've experimented with. Making hummus is super easy and I always like to keep some in the fridge to snack on with Wheat Thins or toasted pitas! Yum! 
Cilantro Ginger Hummus
Ingredients:

 makes about 2 cups
1- 15 0z can chickpeas, drained 
1/4 cup Tahiti (sesame paste) 
1/4 cup lemon juice
2 tablespoon olive oil
1 teaspoon balsamic vinaigrette 
1 garlic clove
1 inch piece of fresh ginger, peeled
1/2 teaspoon ground cumin
1/4 cup cilantro
1 whole plum tomato
2 whole scallions 
Direction:
1// Combine everything into a food processor and puree until it becomes smooth. Easy! 
tip: if you like your hummus a bit more smooth or runny then instead of draining the can of chickpeas leave about 1/4 cup and add it in with everything else. If you enjoy hummus to be a little bit on the thick creamy side then go ahead and stick to my recipe.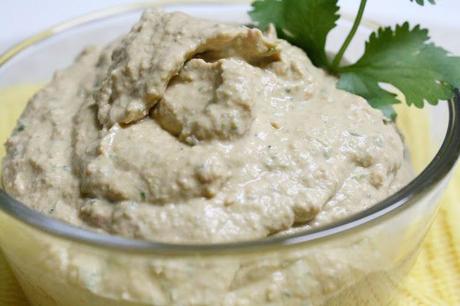 Have you made hummus? What's your favorite kind to make? 
xoxo.