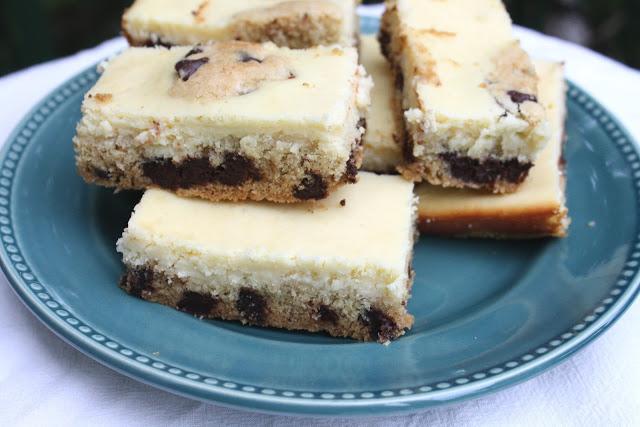 I'm not a huge cheesecake fan but every now and again I'll get a craving for some. This time I sat down and wanted to think of making cheesecake but different. And these Chocolate Chip Cheesecake Bars were the best idea. I like how there's cheesecake yet at the same time I get a little chocolate fix. These little bars are easy to make and when they are done in the oven you can hardly wait to get your hands on them. My family will have the pleasure of sampling these tomorrow at Easter. What are you making for Easter? Any sweets? I'm always one to bring the baked goods to any family gathering! Enjoy.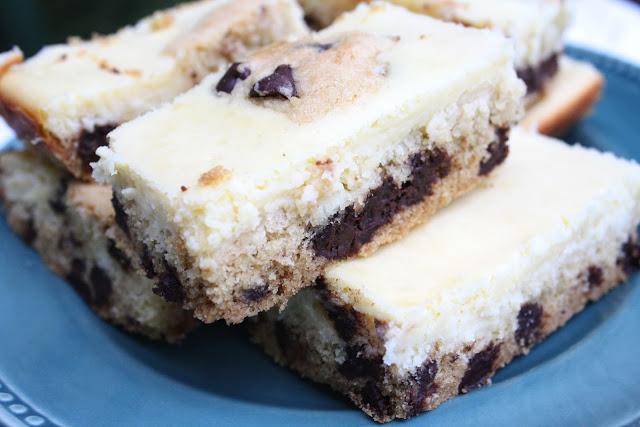 Ingredients:
chocolate chip crust:
3/4 cup unsalted butter
3/4 cup sugar
1 egg
1 1/2 teaspoon vanilla extract
1 1/2 cup flour 
1 teaspoon salt
3/4 tablespoon baking soda
1 1/2 cup semi-sweet chocolate chips
cheesecake filling:
2-8oz packages cream cheese, room temperature 
3/4 cup sugar
2 eggs
1 teaspoon vanilla extract 
Directions: 
preheat oven to 350°
1// Start with chocolate chip crust by creaming together sugar and butter. Then add egg and vanilla. Mix until combined. 
2// In a separate medium bowl combine flour, salt and baking soda. Add flour mixture to creamed butter mixture and mix until everything blended. Lastly fold in chocolate chips.
3// In a 13x9 baking pan press chocolate chip dough to the bottom leaving 1/2 cup dough for topping. Bake in the oven for 10 minutes. 
4// For the cream cheese filling grab a mixing bowl add cream cheese and sugar. Blending until creamy. Add egg and vanilla. 
5// Once the crust is down, pour it the cream cheese over the crust and spread evenly. Next using a teaspoon drop the remaining dough right on top of the cream cheese filling. Set back in the oven and bake another 35-40 minutes. Let it cool and then cut into the bars!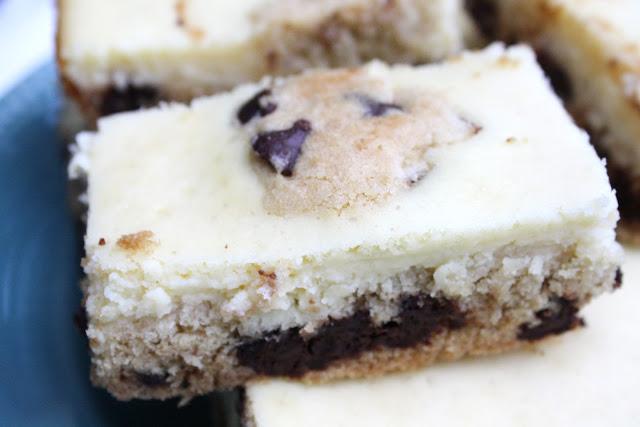 xoxo.