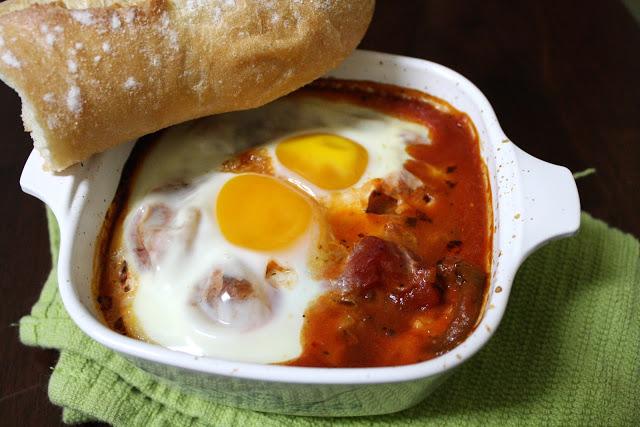 I was inspired to create this Baked Egg in Tomato Chutney with Raviolis when I happened to see something similar on FoodGawker a while ago. For some reason I never bookmarked or wrote down the recipe so I just took it upon myself and created my own! It turned out fabulous. I bought a nice crusty baguette to dip with, which made this meal even more enjoyable. It's quick to make and you end up with something that has your taste buds singing and best of all it looks fancy! Don't you think?!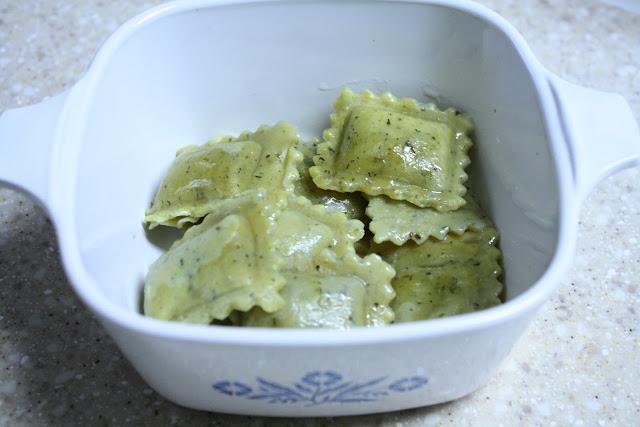 Ingredients: (serves 2)
8 oz package of three cheese raviolis (or any kind you like)
4 eggs
2 tablespoons olive oil
1/2 cup onion, chopped
4 cloves garlic, minced
1 green pepper, chopped into slivers
1- 14.5 ounce can diced tomatoes
1 cup crushed tomatoes
1 tablespoon worcestershire sauce
1 teaspoon salt
1 teaspoon pepper
1/4 teaspoon crushed red pepper 
2 tablespoons grated parmesan reggiano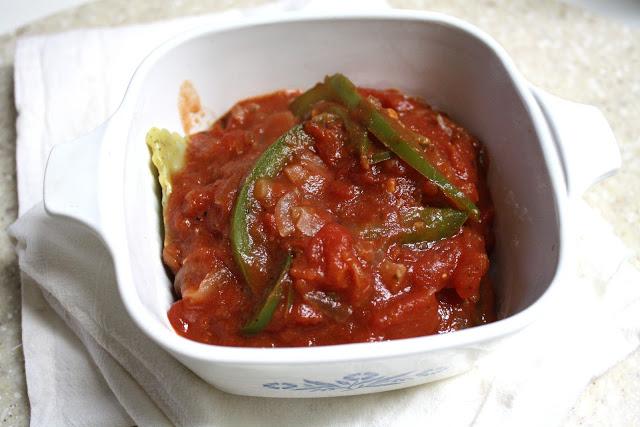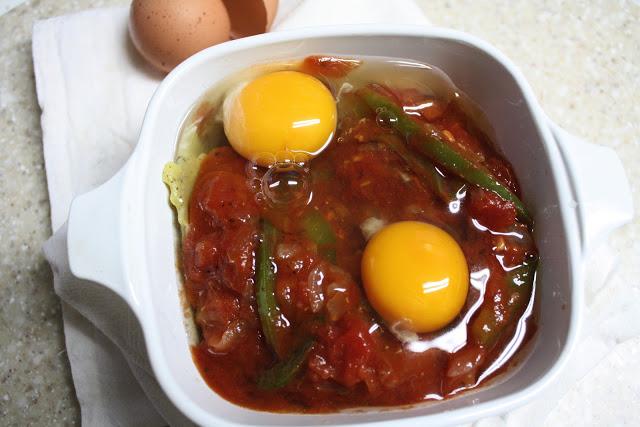 Directions: preheat oven 400°
1. Follow directions and boil raviolis. Once done drizzle a little olive oil and set them aside. Meanwhile in a sauce pan on medium heat olive oil to sauté onion, garlic and green peppers. Cook until they are tender, about 10 minutes. Add diced tomatoes and crushed tomatoes and turn heat to low. Add salt, pepper, worcestershire sauce and crushed red pepper. Stir everything together for another 10 minutes, just until is starts to bubble.
2// In two 5x5 baking dishes divide raviolis into both and then scoop tomato chutney over the top of raviolis. Crack two eggs on top of each dish and set into the oven. Bake for 20-25 minutes until the whites of the eggs are set and the yellow yolks are runny. Take it out of the oven, sprinkle the grated parmesan reggiano and serve hot with a crusty baguette.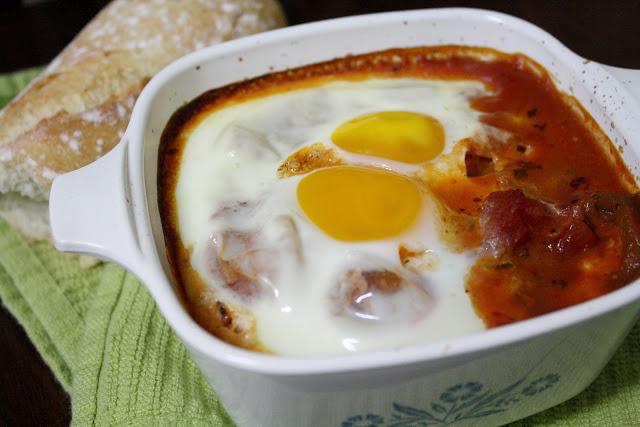 That's all there is to it! The dippin' is the best part. Yummm. 
Enjoy.