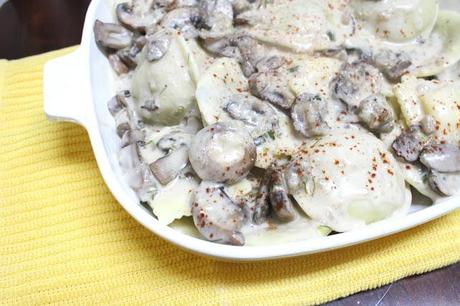 Mushrooms are a staple in my house. I must always feed my husband at least one mushroom dish a week. This week I made a easy Creamy Mushroom Garlic Sauce that we enjoyed with raviolis. Tomato sauces are great with raviolis but I love a cream sauce. Sometimes I feel like tomato sauces can over power the whole dish and take away other flavors. This mushroom sauce can go with any sort of pasta and you could even add some chicken!
Ingredients: 
2 tablespoons butter
2 tablespoons flour 
4 cloves garlic, minced
6 oz bella mushrooms
1/2 cup heavy cream 
1/2 chicken broth
1/2 cup chopped leeks 
salt & pepper
1/2 cup Parmesan-Regginano
Directions: 
1// In a medium sauces pan melt the butter. Add minced garlic and leeks. Cook for about 2 minutes. Add mushrooms and sauté everything together for about 5 minutes. 
2// Add flour, cream and chicken broth. Turn heat low and let sauce simmer until it reaches a velvety smooth consistency. Add Parmesan-Regginano cheese. Stir. Add salt and pepper to taste after adding the cheese since the cheese tends to be salty. 
3// Serve with any pasta or raviolis.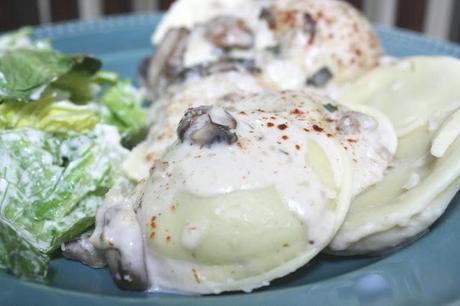 Enjoy. xoxo.