For this lovely Toscana Soup recipe I really have no words for it. It is the type of recipe where you have to try it for yourself in order to know what I am talking about, a recipe where it speaks for itself. Meat lovers will love this awesome Toscana Soup as their healthy lunch ideas recipe, and honestly for those who haven`t tried it, you ought to at least try it once, I am sure you`ll be impressed. I can try and put it in words the sensation you get from this lovely healthy lunch ideas recipe but you won`t know what I am talking about so just give it a try before we continue this chat and tell me about your experience of this Toscana Soup recipe.
Ingredients:
3/4 cup onions, diced 1/8 inch
1 slice bacon, 1/4 inch diced
1 1/4 teaspoon garlic cloves, minced
1 ounce chicken bouillon
1 quart water
2 medium potatoes, cut in half length wise,
then cut in 1/4 inch slices
2 cups cavallo greens (kale can be substituted),
cut in half, then sliced into 1/16 inch strips
1 1/2 cups sausage link  spicy, pre-cooked, cut in half
length-wise, then cut at an angle into 1/2 inch slices
3/4 cup heavy whipping cream
Directions:
Place sausage link onto sheet pan and bake in 300 degree oven for 15 to 20 minutes or until done.
Place onions and bacon into 3 to 4 quart saucepan and cook onions over medium heat until the onions are almost clear.
Add garlic and cook for 1 minute.
Add chicken bouillon, water and potatoes, bring to a simmer for 15 minutes.
Add remaining ingredients then simmer for 5 more minutes and serve
Enjoy!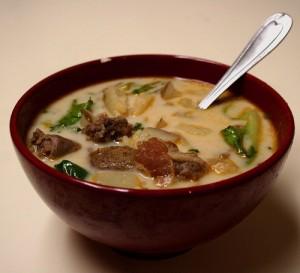 Photo by: Swift Benjamin