As one of the best and tastiest healthy lunch ideas I really recommend making this Fettucine Alfredo. First it is a piece of cake to make and secondly it taste divine plus it is just perfect for any occasion especially for outings like picnics. For those who likes eating salad than you will know what  I am talking about and for those of you who haven`t tried it yet, you don`t know what you guys are missing. Honestly this Fettucine Alfredo is great. Now I have said and can keep on blabbing about how healthy and tasty this healthy lunch ideas is but if you don`t try the Fettucine Alfredo recipe out I can`t say anything. At least give it a try and see for yourself.
Ingredients:
8 ounces Cream cheese cut in bits
3/4 cup Parmesan cheese grated
1/2 cup Butter or margarine
1/2 cup Milk
8 ounces Fettuccine; cook drain
Directions:
In large saucepan combine cream cheese, Parmesan, butter and milk, stirring constantly until smooth.
Toss pasta lightly with sauce, coating well.
Leftovers freeze well.
Enjoy!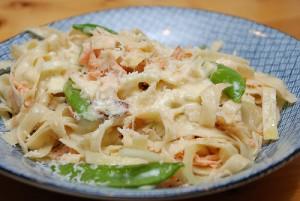 Photo by: kthread