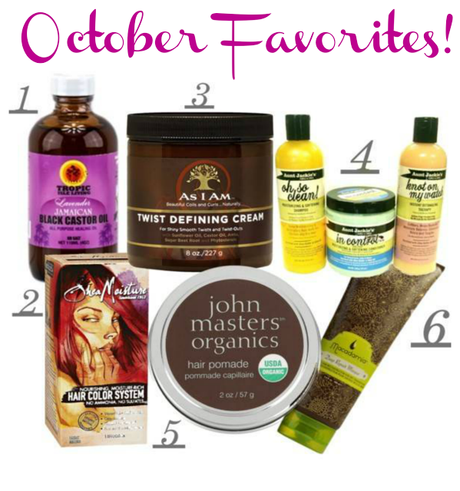 Fall is here and it's time to bring out the leather jackets, calf-high boots and new hair products for the coming weather! Are you ready? I know I am, fall is my favorite season and not just because it's my birth season also, but because it's my favorite time to try new things with my hair! With the lack of humidity in the air from the summer climate, I get to try new hair styles and products that wouldn't necessarily work in hotter, more humid weather.
1. Jamaican Black Castor Oil
I'm no stranger to castor oil, it was one of the oils I used when I first chopped all my relaxer hair off and it helped to re-grow my badly thinning edges in a fairly short amount of time. The thing about castor oil is that it's pretty thick, and my scalp sweats a lot during the summer. I've only used a generic castor oil but the Jamaican Black castor oil has been received so well by both women that wear their hair natural and those that don't that I was inclined to purchase a bottle.
2. Shea Moisture Nourishing Hair Color System
I have to admit, I'm one of those girls that colors her hair at home. Yep, I've been self-coloring my hair for a long time and other than a really bad hair breakage problem from coloring my hair way too light many years ago, I'm not intimidated by at-home hair coloring. That being said, I've wanted to try a red or orange hue for the fall. Shelly of Glam Natural Life shared her results with using the coloring system and completely sold me! Keep in mind, I am not recommending that anyone attempt to color their hair themselves unless consulting with a professional first.
3. As I Am Twist Defining Cream
I've been a fan of the
As I Am
line for a couple of years since one of my curlfriends
(thanks Mrs. Rather!)
recommended that I try it. I purchased the
Coconut Cowash
, the
Twist Defining Cream
and the
leave in conditioner
(which I love!)
, and have been a returning customer ever since. The Twist Defining Cream provides a light to medium hold, and a little bit goes a long way. I was very heavy-handed when I first started using this product and it would make my hair a little crunchy, but the right key is to use sparingly. The cream also seems to mix well with other products, I can use it to style my hair when it is freshly washed or when it's overdue for a wash, and I always get good results.
4. Aunt Jackie's Knot on My Watch Detangler
Hands down,
Aunt Jackie's
Knot on My Watch
detangler has to be one the best detanglers that I've ever used. The slip in this product is amazing and it literally cuts my detangling time in half. I use it on top of my conditioner while finger detangling in the shower. Then, I follow up by detangling with a wide tooth comb. I've also used it sparingly on dry hair and I love how easy it is to get my fingers through my hair when using Aunt Jackie's Knot on My Watch, it also provides a nice amount of moisture when used on my hair while dry.
5. John Master's Organics Hair Pomade
I usually try not to use too much gel in the winter because it takes so long to dry and I don't like a cold, wet head. Instead, I opted for the John Master's Organics Pomade to use along my edges, which won't make my hair hard, provides great hold and also moisturizes.
6.
Macadamia Natural Oil Deep Repair Mask
The Macadamia Natural Oil Deep Repair Mask comes recommended for dry, damaged hair and is infused with macadamia Oil, argan oil, tea tree oil, chamomile oil, aloe and algae extracts. I was hesitant to try it at first because I had seen mixed reviews however, my hair felt softer after using the mask and did even after my hair was dry.
These are just a few of my fall natural hair product picks for this month...
What are some of your favorite products for your fall natural hair care regimen?