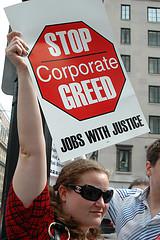 Image by Cosmic Smudge via Flickr
   Over the last two months, "Occupy Wall Street" protesters in every state have wreaked havoc on city streets and community businesses in efforts their voices will be heard. Their plight is however, once a communicator becomes aggressive in tone and action, the receiver stops listening. Additionally, knowing who the enemy is, and what address they live at is essential to war as well. The enemy lives in Washington D.C on Pennsylvania Ave, not at the homes and businesses of occupier's neighbors. The House, the Senate, the President, and their charges are responsible for regulations, bills, bailouts, financial deprivation, laws, debt, economy, wealth distribution, and environmental and social issues; therefore, why are the tents not perched up on their property?
   Violence and defiance have resulted in hundreds of "Occupy" protesters being arrested in New York, Nashville, Detroit, Oakland, Portland, Atlanta, Boston, Chicago, and Seattle -nearly every city in America. Hypodermic needles have been found at encampments, what's more, rapes, deaths, vandalism, and drugs have been center focus of a "cause" that has no doubt had a negative effect. Polls recently show those who were listening, are now turning a deaf ear to a "cause" that lacks "focus and direction". What was once considered a "civil rights movement" is now viewed as a "poor people's campaign" controlled by left-wing nut-jobs that just want a handout. Obviously no one has told the occupiers, corporate America pays for those handouts; therefore, shutting them down will be, if accomplished, at their own peril.
   This Left-wing effort to separate and pit one class of people against another (class warfare) is just an attempt at deterrence from the real issues. If the Democratic Party spent as much time fixing things as they did whining about them, things might actually get done in America. If "Occupy Wall Street" protesters want to voice a cause, let them speak out about why the DOJ (Department of Justice) is allowed to spend OUR tax dollars on $16 muffins; or why the current administration gave over $535 million to Solyndra after being "warned" against it; and, why is Eric Holder not being fired for the egregious behavior of an inapt ATF; and, why OUR military vets fear cuts to programs they would not require if they had not defended this great country; why American Borders are not being protected; and, why, if the left detests Corporate America, did the current Democratic administration bailout said corporations, what's more, why is America now over $15 trillion in debt with a historic down-grade in our credit rating?
   The logic of "Occupy Wall Street" is that of left-wing simpletons, socialists, and Marxists who are misguided –pissed someone who worked hard to build a company won't give them a "handout".  Well, in America if a person wants money –they work for it. Let's ask "Occupy Wall Street" protesters to distribute their wealth –oh, that's right, they don't have any! This uprising is a direct result of an administration brainwashing constituents into believing something-for-nothing is the American way –hail to Socialism! Inside information has it however, "A handout only enables, a hand-up empowers" –reinforcing productivity and self-worth.
0.000000
0.000000