99% of the time I eat one of three things for breakfast: a fresh juice/smoothie, greek yogurt or oatmeal. Occasionally Scott will make a big breakfast with bacon, eggs, toast etc. but I so rarely do anything else. My goal is to step outside of the breakfast box a bit this month and try some new things.
First up on the list was a Oat and Quinoa Porridge that I heavily adapted from Bon Appetit. The prep time was just a few minutes but it did need 20 minutes of cooking time. Not something I really have time for in the morning. So I made a big batch on Sunday and have been reheating leftovers for during the week. Cook once and eat a few times. Best time saving tip ever.
The thing I love about this Oat and Quinoa Porridge is that you can change up the flavors, use another dried fruit, add different jams, try nut butter, different spices and using things like agave and maple syrup give it the right hint of sweetness. Having two kinds of grains also give it's a great texture and is a nice change up from regular oatmeal.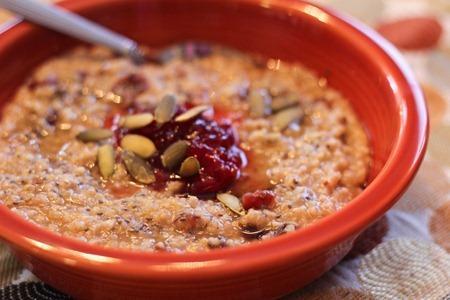 I am rather partial to the homemade rhubarb cherry jam my Grandma made us with a few pepitas, chia seeds and maple syrup.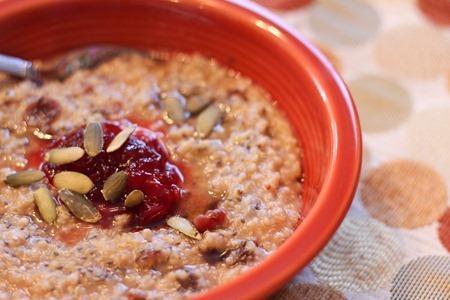 Oat and Quinoa Porridge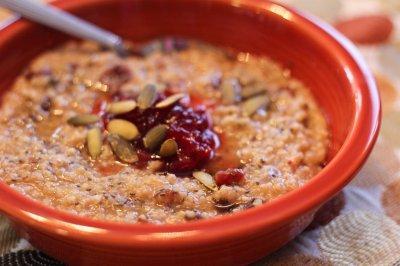 Prep Time: 5 Minutes
Cook Time: 20-30 Minutes
Keywords: breakfast vegan
6041537
Ingredients (Serves 2)
1/2 cup dried cranberries
1/2 cup steel-cut oats
1/2 cup well-rinsed quinoa
1/4 cup raisins
1 teaspoon kosher salt
1/2 teaspoon ground cinnamon
1/4 teaspoon ground nutmeg
4 cups water
Instructions
In a saucepan bring 4 cups water, fruit, oats, quinoa, raisins, salt, cinnamon and nutmeg to a boil.
Let simmer for 20-30 or until cooked through.
Powered by
Recipage