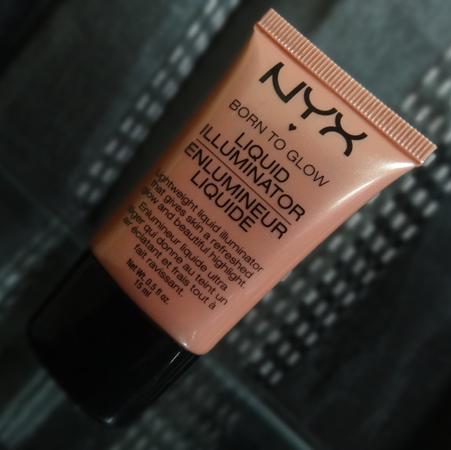 I'll be honest with you - liquid highlighters tend to intimidate me. Although I have no problems with powder highlighters, the liquid (or cream) form seem so...final. I'm not sure how to explain it, but it's like how I used to think that all concealers in a stick form will be dry and cakey (FYI: this is now a big misconception; there are some 
amazing
 stick concealers out there!). However, I fell in 
love 
with the 
NYX Born to Glow Liquid Illuminator
!!!
This highlight seems to be a pretty good dupe for the NARS Orgasm Illuminator (I actually think this one is better); so, if you've been wanting to get your hands on that one, do give this one a go - your wallet will be *so* much happier for it
This liquid highlight retails for $6.99 at Ulta and is currently available in two colors: Sunbeam and Gleam. This particular review is specifically for
 Gleam (02)
 - but only because I can't get my hands on Sunbeam (yet!). 
Gleam is a golden peachy pearl highlight that gives the most amazing glow to your face! This particular highlight can actually be used a few different ways: 
(1)
You can apply this on the high points of  your face to give yourself a more common/traditional highlighting effect
(2)
You can mix a small amount of this with your liquid foundation to give your face an all over glow
(3)
You can apply a few layers on your cheek bones and blend it down to the apples of your cheek to give you a highlight / illuminating blush combo. Apply it in thin layers and allow each layer to "dry" before adding the next one, and don't over blend! The more layers you wear, the more noticeable the peach color will be on your face (this will give you the blush effect).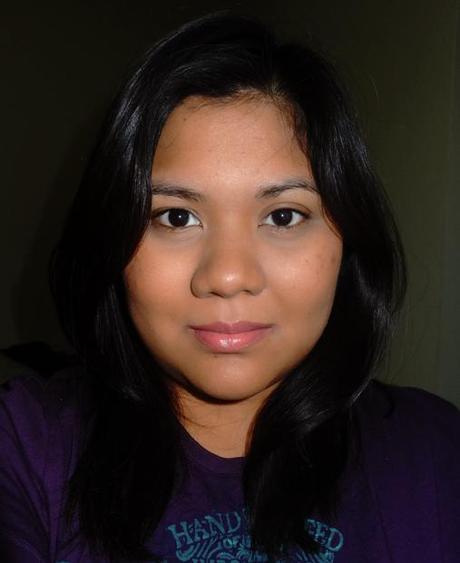 The picture on the left was taken after a
very
 long day. Gleam was applied as a highlighter/blush combo. I love how healthy and refreshed I still looked at the end of the day! And yes - I am aware that my eyebrows are not filled in and my dark eye circles are pretty sad looking...but it was a minimal makeup kind of day. Let me off this once, okay?
If you're not familiar with using liquid highlighters - do
not
 be intimidated! Although it dries pretty quickly, you do have enough time to blend it out! This product is extremely easy to blend and, once it sets, it will not budge! Remember, the more product you use, the more noticeable the peach color will be, so if you just want a subtle highlight, use just a bit!
All in all this is an
amazing
 highlight and I
highly recommend
 it! So next time you're at Ulta, check it out and let me know how it worked for you and/or how you use this highlighter.