Alexander Wang

At Alexander Wang, makeup artists lined the model's eyes with black liner and smudged it out for a edgier, "raw" feel. Everything else was kept natural.
Key Makeup Artist: Diane Kendal for MAC
Helmut Lang
 
The makeup at Helmut Lang was soft but defined at the same time. The eyebrows were stenciled on using Temptu's AIR pod brows.
Key Makeup Artist: Lisa Butler for Temptu
Honor

At the Honor show, makeup artist's created a flawless complexion and then focused on building up thick, clumpy lashes. NARS Larger than Life Volumizing and Lengthening mascara was used and to get the look at home (not sure why you'd want to ?) key makeup artist James Boehmer suggests, "when you think you've got enough mascara, add two more coats."
Key Makeup Artist: James Boehmer for NARS
Jill Stuart

Diane Kendal created such a pretty, wearable look for Jill Stuart. The model's eyes were rimmed with black liner and the lips were stained with pink and orange.
Key Makeup Artist: Diane Kendal
Monique Lhuillier
 
At Monique Lhuillier, models were given royal blue winged liner (MAC's Ultra Chromacake liner) that extended out past the eye and then back inward, tracing the crease.
Key Makeup Artist: Val Garland for MAC
Prabal Gurung
  
I love how this lip looks on the runway!! Charlotte Tilbury and his team created an "orchid" lip with five different colors, starting with black on the very inside, and radiating out to fuschia. The cheeks were contoured and the skin was dewey.
Key Makeup Artist: Charlotte Tilbury for MAC
Ruffian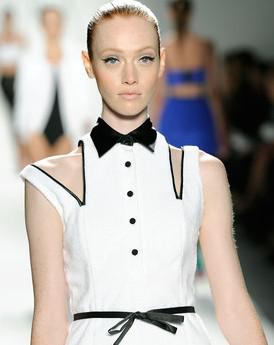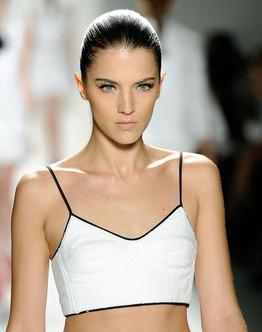 At Ruffian, models were given a super sharp, winged cat-eye and loads of lashes. The skin was perfected and matte, and peach blush was blended into the hollows of the cheeks. Gorgeous!
Key Makeup Artist: James Kaliardos for MAC