Hey Ladies (and guys too ;P),
I hope that everyone is well, and enjoying the cooler weather :D I just wanted to do a kind of talky post to let you all know that I may (or may not) go a little bit quiet over the month of November. I am so amazingly busy this month, that blogging is just going to have to take the back bench, but I promise to blog as often as I can, and I'll still be injecting lots of positivity whenever I can.
I also wanted to take this opportunity to remind you all about two very important events that are coming up in November, that I would love it if you could get involved with.
NaNoWriMo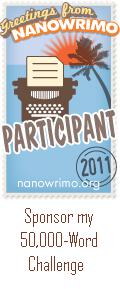 I've blogged and tweeted about this goodness knows how many times, but in case you missed it, throughout the month of November, I am undertaking the NaNoWriMo (National Novel Writing Month) challenge of writing 50,000 words in 30 days. This is a huge challenge for me, and I'm really looking forward to sinking my teeth in it. But, as you can imagine this is going to be taking a great deal of my time.
However, I'm not doing the challenge purely for myself, I'm also doing it for Charity. The Cats Protection to be precise. So, please support me, my challenge and the cute little furballs, by
sponsoring me
as much or as little as you can afford, because every little counts.
Everyone who donates will receive a little bit of recognition on my
NaNoWriMo blog
.
NiN

Image by Katie
Wow, I look like I'm obsessed with abbreviations, but this one is actually a huge coincedence!!
Again, I've mentioned this before, but on November 26th, Katie from
Ladyfromatramp
and I will be hosting our second Northern Blogger Event, this time titled: NiN (Newcastle in November), so as you might guess, this one is being held in Newcastle.
For more details, check out Katie's Facebook Event, and please RSVP so we know that you're interested in coming (even if you're not 100% certain that you can make it, it really helps to have a rough figure :D)
We look forward to seeing as many Northern Bloggers as possible :)
Recap
:
Follow my NaNoWriMo Challenge
here
.
Sponsor my 50,000 Word Challenge
here
.
RSVP Newcastle in November here.
Thank you all very kindly :D