This post was SUPPOSED to be a Nail of the Day....but, it kind of didn't entirely turn out that way. But, I decided to share it with you anyway, as an example of why it's so rare that I actually share the things that I attempt to do with my nails. You see, when I'm just wearing one colour, generally I'm fine. The problem generally arises, when I attempt to be clever or arty, and this is of course an excellent example of how rubbish I can be when it comes to doing my nails, purely because I'm not a particularly patient person when it comes to doing my nails!
It all started when I received my Giveaway Prize from Navilicious Beauty at the end of last week, and the purple Ciate nail polish that came free with this months Marie Claire. And I really wanted to try out one of the polishes that I received along with the purple polish. More specifically, the polishes that I "attempted" to use were:
BeautyUK Glam Nails in Snow White (No. 47)
Ciate Paint Pots in Wait Until Dark.

First Attempt
I started out with a base coat of the Snow White shade, and I found that it needed about three coats to create a base that was really bright. On it's on, this color really does not suit me at all. As I mentioned the other day, I prefer to use sellotape strips that are thin, but for this look I liekd the idea of using thicker strips, but on my first attempt I tried applying the sellotape far too early, made a mess of the white polish, and had to start all over again.
Second Attempt
On my second attempt, I left the white base coat to dry for a good few hours before I applied the sellotape and this proved to be a very good move!
Once the tape was in place, I applied two coats of the purple shade, and I have to say that although the color was of course tainted by the white, I love this shade, it's so vibrant and very me. I took the tape off, and everything went according to plan. Some of the nails were a little jagged at the edges of the white, but most of them came out looking quite crisp and clean.
And oh boy, should I have taken a photo of my nails, as this point, because this is the only point that my nails looked fantastic!!
Why? Because then, I applied the Top Coat. Now, I learnt a long time ago, that it's important to wait a while before applying a top coat, because I've had smudging caused from not waiting, and even when I do it, I expect it.
So, what did I do wrong? I didn't wait for the top coat to dry, in fact, I completely forgot that I'd even applied a top coat, and this is what happened....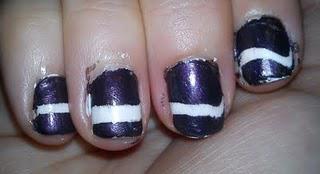 For the record, those white lines...yep, they're all supposed to be completely straight! Although, I do have to say that the waviness of the nail on the far right is actually kinda cool, and has an uncanny likeness to the Pepsi logo ;) You can also see on that same nail predominantly, but most of them really, that I smudged them so badly, that the white base has been uncovered at the tips of the nails.
What this photo doesn't show you, is the lumps, bumps and awful marks that were left on my nails, and I managed to get the purple all over my fingers in the process as well!
You might also notice that I haven't watermarked this photo, because, well, who in the right mind would want to steal it ha :)
I have to say that I feel gutted to have put so much effort into this look, to have ruined in at the very last hurdle, despite everything eventually falling into place, up to this point.
No one is perfect, so come on, 'fess up, what faux pas have you made when doing your nails? And which mistakes do you make every single time, and never seem to learn!? They can't be as bad as these ones...*cringe*