Good morning!  This week has already been pretty busy for me, what about you?
I worked until about 3:30pm yesterday then headed out for Girls on the Run (our last meeting is tomorrow and I'm going to be a waterfall of tears!)  We kept it pretty simple yesterday since we're already done with our 5k race.  We did our last lesson of the season for about half of it, then just let them choose games to play – their choices were freeze tag and the tangle game.  The tangle game (because I don't know it's actual name) is when you grab an arm across from you, different people linked to each arm and you can't grab anyone that's next to you, then you have to figure out how to untangle yourself.  We played that at one point during the season and surprisingly they loved it!  I don't remember being a big fan of it as a child haha.  After GOTR, I headed over to Nick's to pick him up for dinner, we chose our favorite chinese place because I heard a commercial on the radio for asian food and instantly craved it!  After dinner we had to pick up some signed waiver's from our friends house because they're joining us for the Dragon Boat Regatta this weekend and we had to bring the waiver's to our practice session last night.  Since they had a graduation to attend (on a Monday night? Crazy!) we took the waivers for them.
In case you haven't heard of a Dragon Boat Regatta, picture the largest canoe possible and stick 25 rowers in there who are racing for the win.  Our office is racing a boat so it should be a pretty fun work event this weekend!  I'll be in the very front, leading the rowers in rhythm.  It's a scary and tough task, but I think me and my partner did a stand up job last night.  Now I just need muscles by Saturday!  Are there any get ripped quick schemes out there?!
Another exciting thing from yesterday… MY FIRST ARBONNE PACKAGE ARRIVED!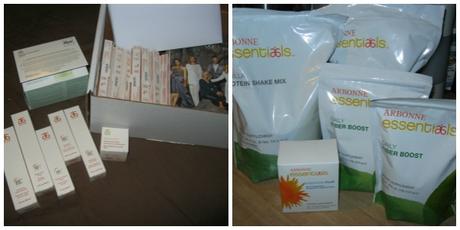 I chose one of the business builder sets so I could get a large variety of products to start using.  I already knew that I loved the RE9 face wash set and the protein powder, so I figured the other stuff is probably added bonus because I assume I'll be pleased with it as well and if not, then it'll be great to share with others who may like it!  Not pictured is my shampoo, conditioner, and body wash.  You see here the RE9 face set, the Genius Resurfacing Pads, my business builder set of samples, catalogs, and information about the company, 2 bags of protein powder, 2 bags of fiber, and a box of digestion plus.  I don't have stomach issues or digestion problems, so if you're interested in a sample of Digestion plus, I'd be happy to mail one to you!  Send me an e-mail with your name & address at [email protected]
You'll also notice just a few changes on the blog, the top right corner now has an Arbonne tab, once I start doing product reviews & informative posts, you'll be able to find everything there.  I promise I'll do my best not to saturate my blog with Arbonne product information, but you will occasionally see stuff about it and if you want to find that post again, you can always check that tab!  I also have a link to my personal Arbonne website, so you can browse our product catalog.  They have some really great ways of saving money with Arbonne, including a Preferred Client Discount, e-mail me if you'd like information on that!  At the present moment, I've highlighted some of my personal favorites on that page!
I swear I planned on talking about more with today's post, but since we've already covered a handfull of topics, I'll save the rest for tomorrow!
Has your week already been super busy?
Have you done Dragon Boating before?  Was it a lot of fun?  How long were you sore afterwards? 
What Arbonne products would you be most excited to try? – Skin Care, Beauty/Makeup, Nutrition?