I got paid plus had some things to exhange at Sephora, so I picked up a few things.  I also could not wait to try some of the new nail polishes I got, so I have a quick and easy NOTD at the end of the post.
CVS
I already had one of the L'Oreal Colour Riche Caresse lippies and loved it.  I wanted to get more colors but did not know which ones to go with.  Angie over at 
Your Beauty Fashion Fitness
 has great reviews on a few of the shades, so they made my choices a bit easier.  I went with Blushing Sequin and Violet Chiffon.  I would have never give Violet Chiffon a second thought before Angie's review. But it looks gorgeous and is a good transition shade for the deeper plums of fall.  Or for anyone like myself who is a bit initmidated by those dark plums.
Urban Decay
My mom and I made another order from Urban Decay.  We love their lipsticks and picked up another tube of Hotpants and Lovechild.  I also got the Skull Shadow Box since it was only $12 and had some shades I did not already own.
Sephora
Sephora had some new nail polishes out and I was really fond of one called "Just A Pinch of Glitter" which is a silver glitter top coat.  I also got a Buxom Big and Healthy Lip Balm in Portofino, which I already love.  Like Violet Chiffon, this will be a great option for anyone that is scared of the dark plum lips, but still wants to try it.  It is a sheer, moisturizing "sheer plum wine" per Sephora's description.  It is $10 and inside the cap, is a cool little mirror.
Heather, one of the amazing employees that has helped me since day 1, fixed me a sample of Lady Gaga's new fragrance, Fame.  As soon as she saw me, she came running up to me with some sprayed on some paper and wanted to know what I thought.   And I am very impressed and will say that I really like Fame.  It is not a sweet fragrance, but still has floral notes and is not overpowering.  It is actually black, but sprays clear.  I would like to at least get the roller ball or small bottle of it.  I honestly did not expect much because I am sick of all the celebrity fragrance launches.  But Gaga did good :) And I am not even a fan of hers.
WalMart
I am not a WalMart fan at all.  I mean seriously, waiting in line for 30 min for a few things? Not to mention some of the crazy sights you see.  Anyhow, I actually did find some good stuff tonight.
I found two L'Oreal polishes that I fell love in with, and mostly because of their names: Greycian Goddess and Jet Set to Paris.  Okay, I love classical history and lit, so Greycian Goddess was a must. Plus I don't own a gray polish.  Jet Set To Paris is a gorgeous blue, and I also do not have anything like it.
Aveeno Creamy Moisturizing Oil.  I need a new moisturizer and since Aveeno is usually a safe and effective brand for me, I went with this.  Plus it was $6.29 for 12oz.  It seems to be working really well, too.
Olay Facial Hair Remover Duo. So I have some very fine hair above my lips and it has finally gotten the best of me.  I'm sure it is not as noticable as I think it is, but I am getting sick of it.  So after reading an in depth review on a blog a while back, I decided to go for it.  Plus I saw a lot of other reviews from other bloggers that loved it.  It will be a few days before I try it since I am following the directions and testing it on my forearm first.  So far, so good.  No irritation.
Photos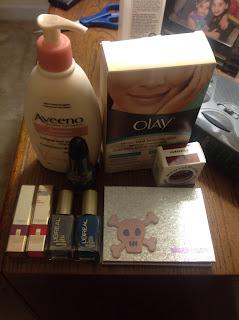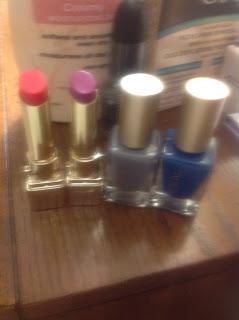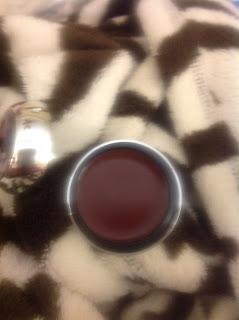 Buxom Lip Balm in Portofino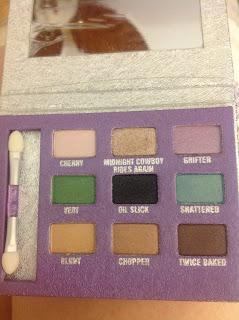 Urban Decay Skull Box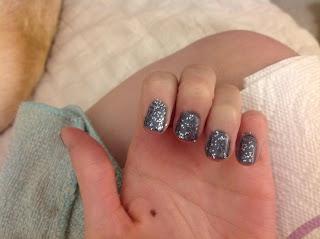 Greycian Goddess Topped with A Pinch of Glitter.