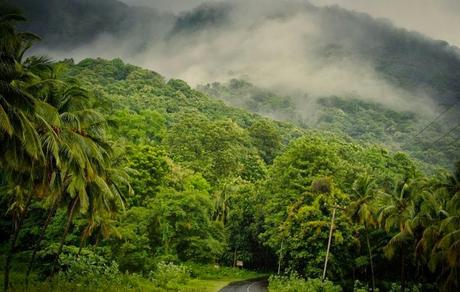 Adding more glory to the existence of God's own country, Kerala is its beautiful
and breathtaking hill stations. A perfect place to spend your summers amidst the beauty and serenity of nature, the hill stations of Kerala have a magical charm which is unique to itself. A Kerala experience will be incomplete without visiting its hills stations which exceeds all limits of human expectations of beauty. 
The charming atmosphere of these hill stations is more than enough to melt you in its arms and engulf you in its serenity. The sights you see, the sounds you get to hear, the air you breathe and the magic you feel captivates all your senses. 
Among the most beautiful hill stations of Kerala, the Nelliyampathy hills are small yet beautiful ranges of hills that welcomes you with wide arms to one of the most breathtaking hill stations of the world. As you drive up the hills, negotiating the sharp bends and turns, one of the most spectacular sights unfolds in front of you, the more closer you reach to the hills.
Originating from the mighty Western Ghats, these ranges of hills surrounded by majestic mountains and captivating valleys and wrapped in a warm blanket of tea, coffee and cardamom plantations along with orange and other fruit orchards is one of the best places to spend your holidays. 
A true delight for the trekkers' one can see the panoramic view of the Palakkad district as you drive up the hills. Some of the interesting tourist places that you can visit out here are the Nelliyampathy and Parambikjlam wildlife sanctuary, the plantations, 

the dense evergreen forests that surrounds it, Pothundy Dam, Seetharkudu waterfalls, Palagapandi Estate, Malampuzha gardens, Raja's cliff etc. More than these places what is special about this place is the salubrious climate and the clean fresh air that cleanses all your physical and mental system, making you healthy as ever.
It is one of the least explored hill stations of Kerala which helps it to retain its natural charm and simplicity. It is also home to some of the most exotic flora and fauna and serves as a hotspot for ecotourism. Nature lovers from all corners of the world are attracted to its rich and diverse ecosystem. 
The hills of Nelliyampathy hill station are unevenly distributed and ranges in height from 500 metres to 1600 metres. It is also very popular for adventure tourism and provides great opportunities for trekking, hand gliding, hiking etc. 
Efficiently connected to all the major cities of Kerala one can visit this hill station mostly between the months of September to May, when the weather will be perfect to explore this area properly. 
Decent places of accommodation are available for comfortable stay and tourist services are well organised. All this makes your stay in this wonder of nature smooth and memorable. It suits your budget, is a real treat for the nature lover in you and is also a healthy option for a holiday for it cuts you off from all your tension and worries.