A short introduction to the brand if you are not familiar with
Ren Skincare
:
Ren Skincare
i
s a high-end bio skincare brand that is free of synthetic ingredients, environmentally friendly, with a wide range of products for every skin type possible ( normal, combination, oily, sensitive, dry, mature) and with a pretty original package in which the product is sealed in an air- tight bag. The brand's product line includes skincare, body care, hand care and hair care products. All of their products have colored labels on their package. 
If you'd like to try their line, usually the company offers gift sets that include an assortment of their products.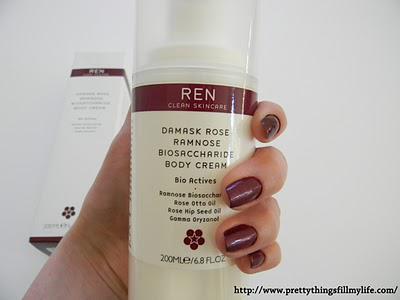 Ren Moroccan Rose Otto Body Cream  matched with Zoya Mata Hari nail polish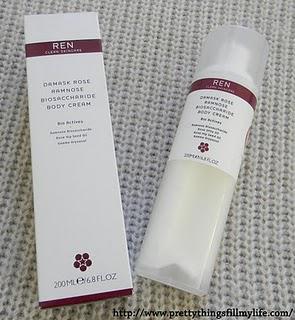 Here is my review :
The body cream is a thin white lotion that has a rose scent. No, it doesn't have that synthetic, artificial smell, which reminds us of old lady's perfume, it has a floral, rose tea smell that most of us would like. Ren Moroccan Rose Otto Body Cream fragrance resembles the scent of a rose more than any of the other product out there, and that's what makes this one stand apart from any other lotion. After application, the smell doesn't fade. The lotion is very spreadable and it comes in a pretty big bottle, so it can last for a few months.
It might not be very moisturizing for some people with very dry skin. If you don't like the smell it's not worth it, because you are probably going to find the same ingredients in other bio, natural products and way cheaper than Ren Moroccan Rose Otto Body Cream. It's very pricey, costing 50$ for 6.8 floz ( 200 ml ).

Ren Moroccan Rose Otto Body Cream ingredients

Pretty graffiti inside the Ren Moroccan Rose Otto Body Cream packaging