In the fall, Nude Dip seemed to be a palette everyone went on and on about.  I wanted to get it, but it was sold out before I finally got the nerve to dish out that kind of money on an eyeshadow quad.  Imagine my excitement when I saw that it was available again.  And, I have to say, I am kind of disappointed in it.  I don't understand what all of the fuss was about.  In all honesty, I like my Morphe eyeshadows a lot better, and they are a heck of a lot cheaper.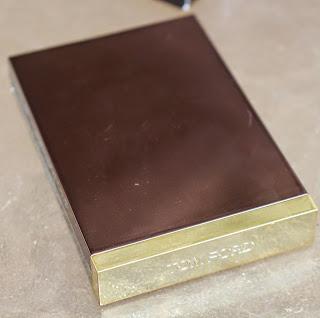 Snazzy packaging, though.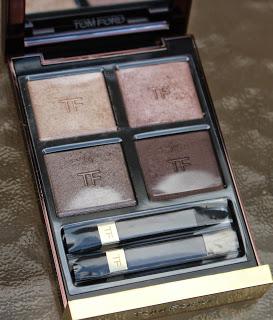 Add caption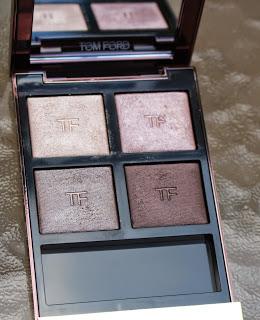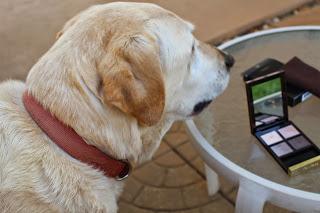 I thought this post needed some cuteness. =) 
Don't get me wrong, the eyeshadows are stunning and the texture is amazing.  They are so smooth and shimmery. Just what I like.  However, they are too sheer when applied. For some people, this might be a good thing. But I like to see my eyeshadow when I wear it.  And if I want sheer, I'm not paying $79.  Forget that. And it faded and creased pretty badly.  I do have oily eyelids, but my less expensive eyeshadows don't even fade or crease. Epic fail.  Primer didn't even help.
The poor performance is a crying shame because the shades are gorgeous.  The lightest shade is a shimmery golden beige. This one does make quite a nice highlighting shade  The shade on the top right is soft rose gold.  The bottom left is a light taupe and the shade on the bottom right is a sheer (it does not apply anywhere near as dark as it looks) chocolate brown.  The description says there is a matte shade in here somewhere. There must be an invisible shade because I certainly don't see it.  The first two are shimmery, and the last two are satins.  I guess they think the dark brown is a matte, but it isn't a true matte.  It seems like a hybrid between a matte and satin finish.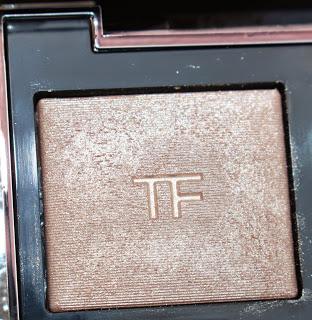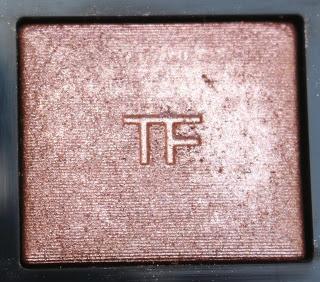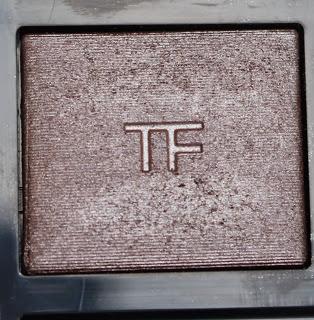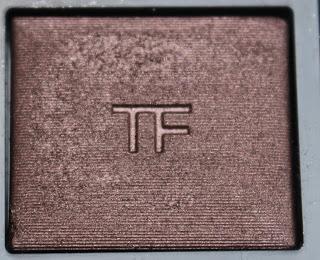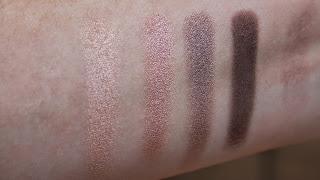 Natural lighting. I wish they looked this pigmented on my eyes. I swatches them without primer.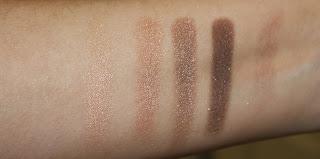 Indoors with flash.
I have to say that the packaging is nice.  The palette is sturdy and it does have a luxurious feel.  As always, the annoying brushes that most of us don't use are included.  However, these actually seem useable.
Bottom line, this is not worth the money and it was a disappointment.  Obviously this palette is crazy expensive at $79.  But, the size of the eyeshadows is huge compared to most palettes.  I realize that I sound bitter right now, but I am quite devastated. I really wanted this to work for me, but it just doesn't. That isn't to say that it won't work for you , but my quick review might give you something to think about.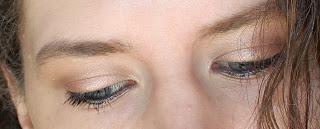 About 30 minutes after application.  I used the darkest shade in the crease, the rose gold on the lid, and the lightest shade on the brow bone.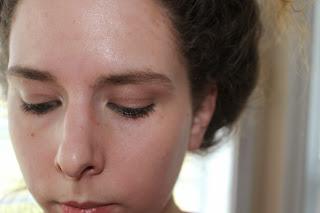 This what happened after about five or 6 hours.
Oh well, not liking a beautiful product does happen.  But I have some good stuff coming up tomorrow. At least I am excited about it.  =) Have a great day and TGIF.