I was fortunate enough to receive these products from Influenster, and the timing could not have been any more perfect. I was about to bite the bullet and order some of these products myself because they sounded pretty interesting
If you follow me on Instagram, you already know that I have been thoroughly testing out these products over the last few weeks. Now I have fully formed opinions of all four products and I want to share them with you so you know what's good and what isn't.
Even though I did receive these items complimentary for testing purposes, all opinions are my own. I am going to review these in the order they would be applied.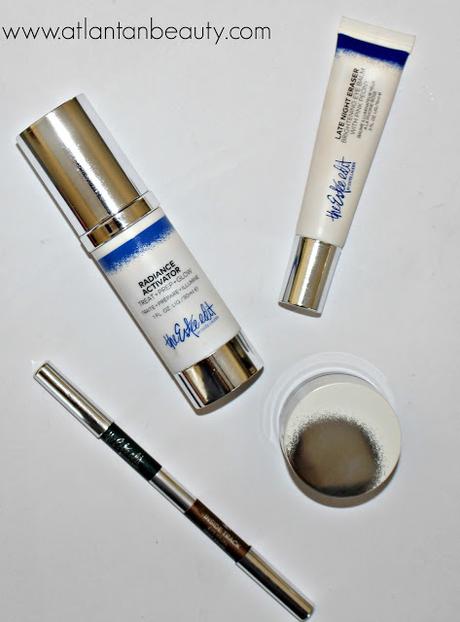 Up first is the Late Night Eraser Brightening Eye Balm with Pink Peony. So, the name pretty much tells you what this product is supposed to do. This was the product I was most skeptical about. Ironically, it is my favorite of the four products. This eye cream has done the best job at keeping my under eyes well hydrated and they do look less puffy. The pearls add just enough luminosity to keep you from looking like a zombie. I also like the cooling applicator, which is very refreshing first thing in the morning. The active ingredients in this cream are pink peony, cucumber, apple, the aforementioned pearls, and hyaluronic acid.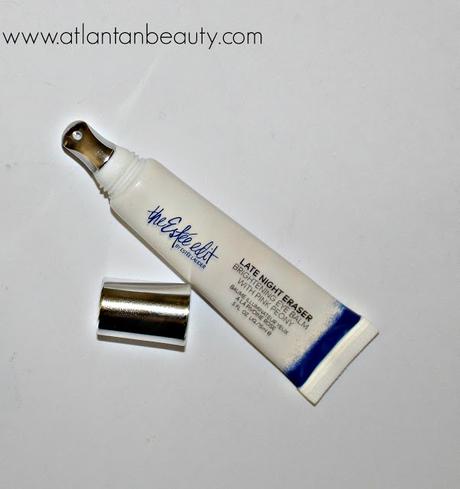 Then we have their Radiance Activator Treat+Prep+Glow. This product has three different functions: a serum that brightens skin, add an instant glow to your skin, and acts as a primer for your makeup. Since I have combination/oily skin, I was a little nervous about trying it. I thought it might make my skin insanely greasy. Luckily, that has not been the case. It does make my skin look very dewy, but not like an oil slick. I like this product, but it isn't something I will use everyday. It does work great as a foundation base because it makes product apply easily and it hydrates your skin pretty well. This will probably work best for drier and normal skin types.  If you have pretty good skin, you can even just use this alone to boost luminosity. The texture is nice; not thick, not thin. It absorbs quickly and doesn't leave any kind of residue. I have read some other reviews and a few people have said it is just straight gold with chunks of shimmer. Mine has no color to it and certainly no chunks. As far as scent, it does have a slight cucumber or aloe like scent. Very fresh and light. It isn't something I use everyday, but I do like it. This is supposed to even out your skin tone, too. Something is working for me because my skin isn't as red and my acne scars are lighter. It is either from this or the Neogen lemon gauze pads.
*Update:
So I applied this on my arm while in direct sunlight, and I did see some subtle shimmer. But not disco ball levels. I haven't noticed it on my face, but just something to be mindful of.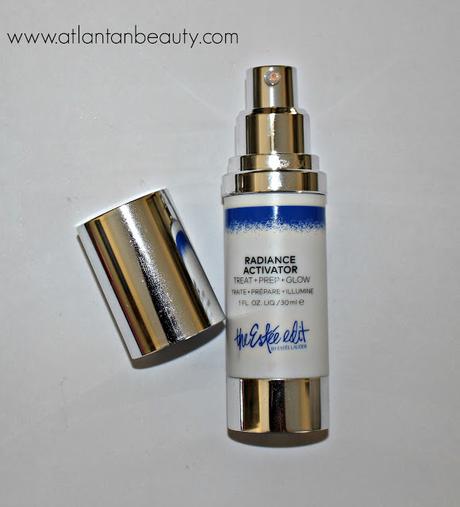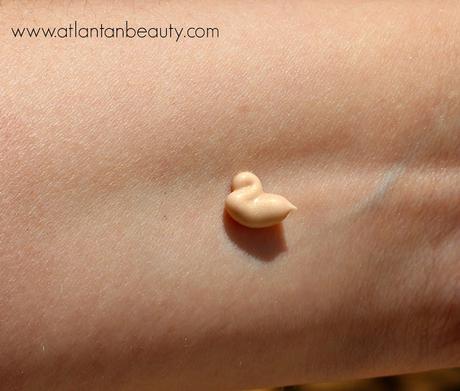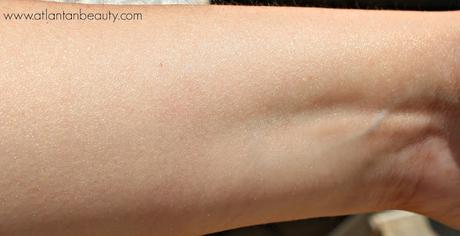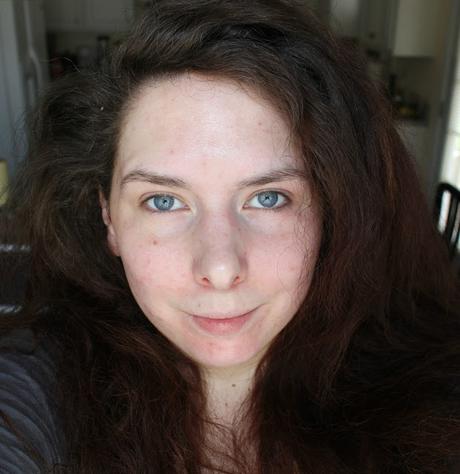 Before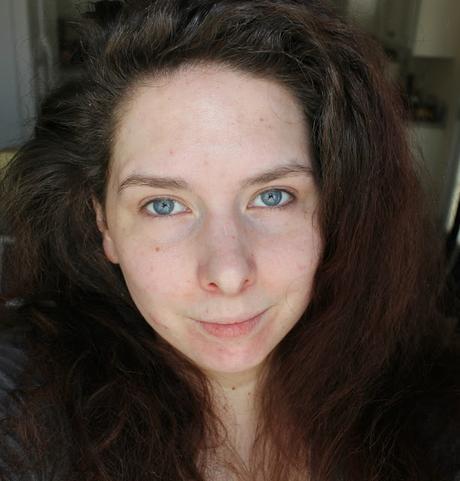 After
Now for the biggest disappointment for me: the Metallishadow Creme+Powder in AquaNova. This is two products in one: a cream eyeshadow and a loose metallic shadow. I was most excited to try this out. I am already not big on cream shadows, so it takes a lot for me to like one. I just found it to be very stiff and difficult to work with. The color was nice, but not quite as pigmented as I hoped for. It does stay on well, though. I didn't experience any creasing or transfer. I prefer using this as a liner vs an eyeshadow. Now for the metallic powder. When I think of metallic, I think of something that looks like liquid metal. In other words, it better have high shine. This does not. In fact, the only thing it really does it make the base color look deeper. I do see just a teensy bit of shimmer, but that isn't what I want to see from something described as "metallic."  On my arm, the metallic powder looks stunning. That doesn't quite transfer on the eyes unless you apply it with your finger, which is something I am not a fan of doing. By itself, the the loose powder is equally pretty, but you do have to worry about a little fallout. I likely will not get a lot of use out of this product.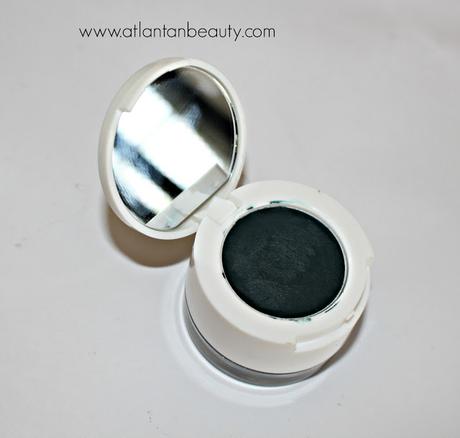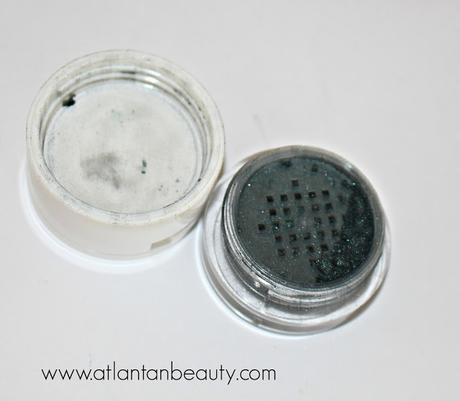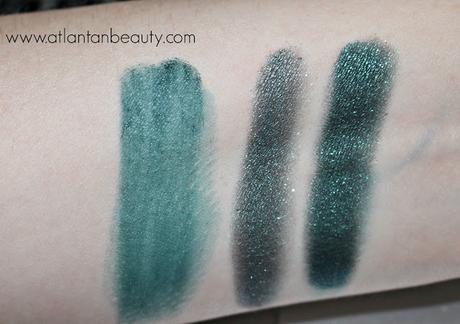 Cream shadow only, loose pigment, both
Last, but certainly not least, is the Inside Track Eye Kajal in the shades Twisted Teal/Tarnished Gold. Now this I love! I don't use a lot of eye pencils, but this formula is probably my favorite. They have fantastic pigment and they glide right on. They only smudge if you want them to. I like smoking the colors out with a pencil brush on the lower lash line. The only issue I have is that sharpening them can be a pain because they are so creamy. Also, you don't get a lot of each color. If you use this everyday, it will be gone in no time at all. I would much rather see these in individual shades vs a dual ended pencil.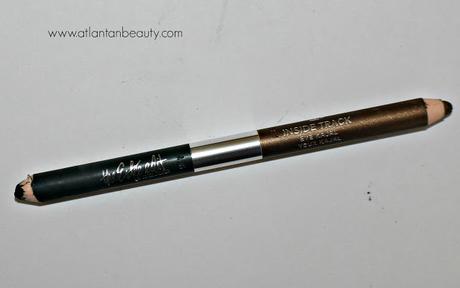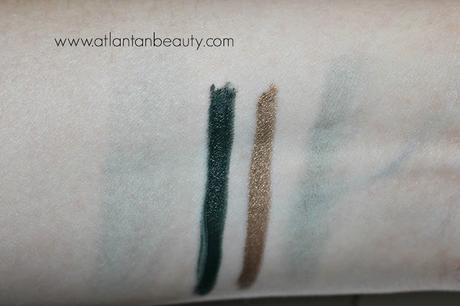 One thing I like across the board is the packaging. With each product, it works well. For instance, the MetalliShadow comes with a mirror and I always appreciate a pump applicator, such as with the Radiance Activator. Plus I love the color scheme of the brand.
Overall, I have a good first impression of the brand. I can definitely see myself purchasing the eye balm and maybe the eyeliner. I also would like to try some more of their face products, like the blushes and highlighter. While I enjoy the Radiance Activator, I'm not sure I see myself buying it.
Thanks again to Influenster for sending me these products to test out.