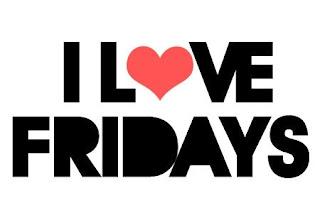 Happy Friday!
I think I am going to get back to my roots today and just talk about my workout. 
This weekend is Canadian Thanksgiving...I know. Time flies. I plan to eat tons. I am also planning a few workouts. I will be going to hot yoga tomorrow morning, taking Sunday off and a BodyStep class on Monday. I will also be training with Kyle on Tuesday morning before I head back to work.
I am pleased to report I was able to do my planks (#PlankADay) with Kyle (we did 2 one minute perfect planks). It makes all the difference when someone is coaching you/poking you to maintain perfect plank form. I also did my Wicked Wallies (#WickedWallies) for the first time ever. What is a Wicked Wally? Click HERE for the details. I am sure my co-workers are reading this and thinking "Here we go again". They would be right. Today I did a one minute #WickedWallies and that was good enough for me! 
Anyway, my workout was awesome. Today is the last official day of my holidays (not including the long weekend). I successfully got up at 7:00am on Mon/Wed/Friday to train with Kyle. Success.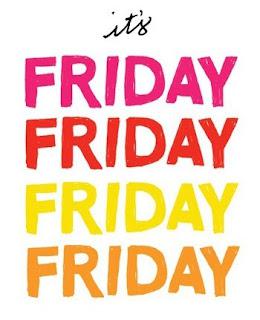 Here are the details of our workout: 
Friday October 5th:
Warm Up: Step Mill 5 minutes
Workout:
4 Rounds/10 Reps
Trap Bar Deadlifts 115#
Skull Crusher Tricep Extensions 12.5# dumbbell
3 Rounds 12/Reps:
Single Arm Chest Press 55#
Alternating Lunges 30#
Seated Row 35#
Prone Leg Curl 85#
Plank: 1 minute plank/1 minute rest/1 minute plank
Whether it is Thanksgiving for you this weekend or just a regular weekend. I hope everyone has some fitness plans to go along with other weekend plans (such as eating, drinking etc.). If you have a plan in place you are much more likely to follow through and have a successfully active weekend. If you have family in town, include them in your plans. Most gyms offer free guest passes or hit up some hiking trails and enjoy the gorgeous autumn weather.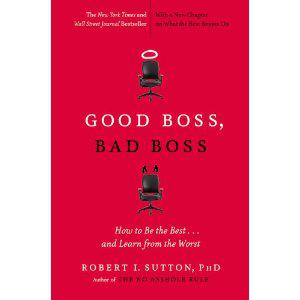 I also have a quick book recommendation for any managers or supervisors out there. It's call 'Good Boss, Bad Boss' By: Robert Sutton PhD.
Have you heard of it? It was recommended to me by one of our Director's of Personal Training at GoodLife Fitness.
It's by the same author who wrote 'The No Asshole Rule'. This book is basically a guide on how to be the best boss possible and learn from the worst. With chapters called 'Squelch your Bosshole' I am expecting this book to be an interesting read, so far it is starting off as being one of those books that you highlight passages (so you can go back and re-read them). Do you know what I mean? I also bought 'The Hunger Games' because you need to have a balance between business and pleasure!!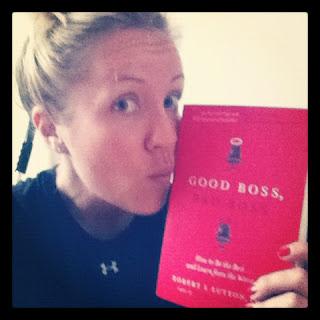 Now it's time for some business reading. It's Friday afternoon and the weather is a little bit sucky. I am going to read for a bit...
 I am sensing some Netflix in my near future...
Do you have Netflix? It might just be the best thing in the whole world. If you have any recommendations for new shows to watch I would love to hear them. We are three seasons deep into Dexter and a few epi's into Mad Men. I also obsessively watch reruns of Arrested Development. Unfortunately no Seinfeld epi's...yet. I will pretty much watch anything, so let me know if you have a show you would recommend! xo
My Trainer (from Wednesday):Yesterday Tara and I had our first training session of the week.  I went back and read her blog to see if she tore me apart for missing Monday's workout.  In her kindest form, Tara left out that upon taking the time to get ready, drive to the gym, etc. she walked in on her Trainer pale as can be and I was almost ready to be sick to my stomach (flu).  We sat there for a minute and then it was obvious I was not fit to train her.  I hate cancelling sessions, and it happens very rarely but I felt even more awful because it was the start of her holidays and I really thought I could tough it out – or I would have had the decency to call and inform her.  Nevertheless, I went home and tried to shake the flu and she powered on and did the workout as planned … or pretty damn close.
That bought us to Wednesday.  So with me screwing up our first session, I was pumped to get her back in and make it up to her, but then saw a missed call from her.  I called her back to hear the frustration in her voice as she explained she`d be late.  One thing I really enjoy about training Tara is that she really enjoys exercise and does it, amongst other reasons, to have fun while getting fit.  Today was the day for a change.  The entire workout now revolved around the sled.  She started with her rows and external rotators to stabilize her shoulders through the difficult movements with the sled.  She did the prep work just fine and then it was on to the sled that I had pre-load with lots of weight.  She immediately noticed how important grip strength is in `strongman training` but put together a solid effort.  First I wanted her to get used to using her whole body to move the weight around, but she glared at me as if to say ``I`m not a wuss, put more weight on``.  I did and then she got down to it.  She set a pace with an impressive 3 laps (back and forth) of our Group-Exercise studio and got 60 seconds to rest.  She completed 3 sets of 3 laps and we got what we wanted out of it – a fun workout that took a ton of effort!
We are back on tomorrow morning for another workout and I want to keep at least one thing interesting to her this session as well.  It was great to see her food journal on the blog, and the Grando story was quite amusing as well.  Until the morning, I hope she`s enjoying her holidays and comes ready to work tomorrow.
Happy Reading,
Me+My Trainer