For the makeup portion of my Best of 2015 series, I wanted to stick with products that I used over and over and over again. They may not be the newest or most interesting products, but they are amazing. I may stray away from them for a little bit, but I will always come back. Originally I was going to divide this up by face, eyes, and lips. But then I decided to just stick with the best of the best. Plus I needed to make my life a little easier because I am already slightly overwhelmed with all of the posts I want to do.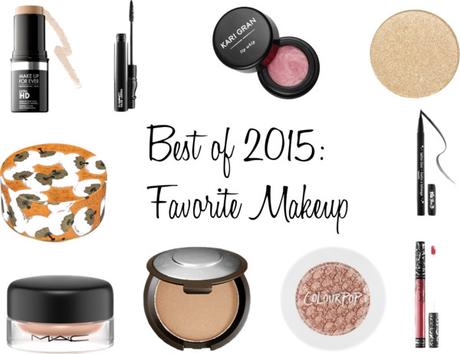 Top 10 Makeup Picks of 2015 by kristen-noel-williford featuring a tattoo eye liner


Kari Gran lip treatment
sephora.com




Make up for ever foundation
sephora.com




Becca shimmer makeup
sephora.com




Mac cosmetics eyeshadow
maccosmetics.com




Mac cosmetic
maccosmetics.com




Kat Von D glossy lipstick
sephora.com




Kat Von D tattoo eye liner
sephora.com




Coty face powder
walmart.com




La La
colourpop.com





1.) Makeup For Ever Ultra HD Invisible Cover Stick Foundation
I am willing to say that this is probably the best foundation that I have ever used. The coverage is amazing without making you look cakey or overdone. It is lightweight and it does have a dewy finish, but it does not make my skin look greasy. And it stays on all day, too. This was well worth the splurge.
2.) Coty Airspun Translucent Extra Coverage Loose Face Powder
This powder will take your foundation to the next level. It is a translucent powder, but somehow it ups the coverage a little bit. It is budget friendly at $5.97 and you can find it at drugstores and Walmart. You can also just wear this alone to even out your skin if you don't want to bother with foundation.
3.) M.A.C Pro Longwear Paint Pot in Painterly
2015 was the year I finally understood why so many makeup enthusiasts use this stuff. It is the best darn eyeshadow primer I have EVER used. There will be no going back after using this product. I am about to have a minor panic attack because it has gone missing and I need it. The NYX eyeshadow base just isn't the same.
4.) BECCA x Jaclyn Hill Champagne Pop Shimmering Skin Perfector Pressed
Oh, Champagne Pop! How I love thee. It is the perfect highlighter. It is a flawless mix of gold, pink, and beige.
5.) Colour Pop Eyeshadows
Colour Pop eyeshadows are fantastic. They have every color you could ever think of and they are only $5. For that $5, you get intense pigment that stays on all day. They can be a little finicky in terms of application, but once you learn that, they are outstanding and fun to use. The shade here is LaLa and it is one of my all time favorites.
6.) Kat Von D Everlasting Liquid Lipsticks
These are still my favorite liquid lipstick formula. They are wonderfully pigmented, they don't budge, and they do not dry my lips out. There is a reason why these are so popular. Plus the shade range is fantastic. She has your everyday nudes, pinks, reds, berries, and some more fun shades, too.
7.) Kat Von D Tattoo Liner in Trooper
This liner will always be special because it helped me get used to liquid liner and it is just perfection. It is pigmented, opaque, transfer proof, and it does not budge. I have branched out a little bit, so I haven't used in a bit, but it is the best.
8.) Makeup Geek Eyeshadows
You know an eyeshadow is phenomenal when I use it for two weeks straight. And if my mom likes them, they truly are the best out there. I cannot get over how awesome these shadows are. They blend and apply effortlessly. And the pigment? Awesome. I can't get enough of them.
9.) Kari Gran Tinted Lip Whip
This is one of the best lip balms I have ever used. It is rare that I find a lip balm to be 100% effective, but this one is.  It has a hint of color, so you can spruce up a little bit while hydrating your lips.
10.) M.A.C False Lashes Mascara

It is rare for me to find a mascara that I love, but this one wowed me. It has the perfect combination of length and volume. And most importantly, it does not clump or flake off. It is the only mascara that I have ever tried that I would ever consider re-purchasing.
Happy New Year, everyone! I cannot believe it is 2016. It feels like it should still be 2008, or maybe that is because I wish it were still 2008. Stay safe and have fun!