I just (just meaning 15 minutes ago) stumbled across a picture I had taken in December 2011.  It is scary and amazing at the same time.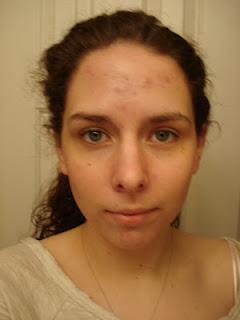 Pretty scary, huh?
 Since November, I have been battling a bad case of acne (most likely cause by a lot of stress) and eczema flare ups, also caused by stress.  These were not pimples; they were deep knots that first formed around the beginning of November.  Naturally, my self confidence went down hill as a I had to deal with acne and eczema at the same time.  I tried for two months to deal with this myself.  I thought I could handle it since I had never had anything like this before and it would soon go away.  Of course this was not the case.  Here is the list of skin care lines I tried in the course of two months.
1.) Murad Acne Solutions line, which made things even worse.
2.) Peter Thomas Roth Age Defense Kit with his Anti Aging gel cleanser, anti-aging buffing beads, a retinol serum and daytime moisturizer with SPF 30.  This worked really well at keeping new breakouts at bay, but did nothing to treat current breakouts.  Once I get my skin back to 100%, I may go back to it.
3.) Perricone Glycolic Cleansing Bars, Intensive Pore Minimizer. Advanced Face Firming Activator and Face Finishing Moisturizer.  Not worth the price, and the glycolic cleansing bars created more blackheads because they have olive oil.
This was my skin after all of this: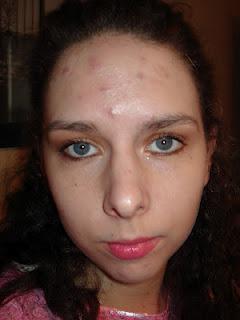 At this point, I finally broke down and went to the dermatologist.  He prescribed a high dose of Doxycycline, which scared me for three reasons: I know the potential danger for taking a high dose of an antibiotic for an extended period of time (resistance to the medication),  Doxycycline messes with my stomach and he wanted me to take this stuff for 8 weeks.  My next move was to see my general practitioner, which made me happy since I always enjoy seeing and talking to him.  At this point, blood work was done to check my hormones.  A week later, I go back and my hormones are about as normal as they can get.  Another problem presented itself, which is that I have very high cholesterol.  Clearly my genes have not been very kind to me.  So I take the antibiotic for a month and use Epiduo a few nights a week.  During this month, I switched skincare lines again, but to something that worked. Enter Clinique Acne Solutions aka my skin's saving grace.  During this time, I dreaded leaving the house because I was so self-conscious.  Flawless skin is the one thing I really want, and I just could not get it.  Whenever people spoke to me, I felt like the only thing they could see were all of the horrible blemishes and scars.  After the 4-5 weeks of antibiotic, the knots went away and my skin started clearing up.  After I stopped taking the antibiotic, I was terrified my skin would get worse.  Thanks to the Clinique Skincare and changed habits, that never happened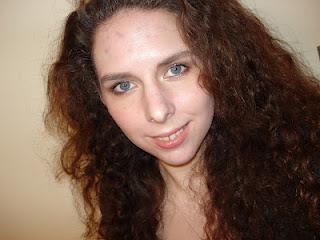 I am wearing a little bit of makeup, but you can still see the bad acne scars left from the knots.  This is early march.  I began the antibiotic and Clinique line in mid January, I think.  

Fast forward to present day, as in tonight circa 11:00 pm while making coffee (hey, I need to stay awake so I can get this posted before I forget what I want to say).  I just washed my face and what bit of lip color you see is a result of testing the new Revlon Balm Stain.  I still use the Clinique Acne Solutions line, but I have added a few products: The Body Shops Vitamin C Facial Polish (review soon). Vitamin C Skin Boost and Energizing Face Mist (review and more pics here).  I also added WalGreens Alpha Hydroxy Cream, which works really well.  These products have brightened up my skin and are slowly getting rid of the acne scars.  I have also added 1200 mg of fish oil daily, which has really helped with my eczema.  It does not flare up nearly as often.  I also drink a lot more water and cut back on sugar.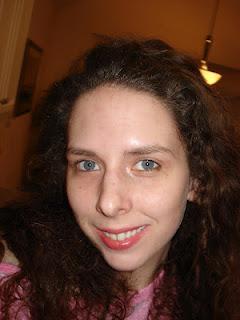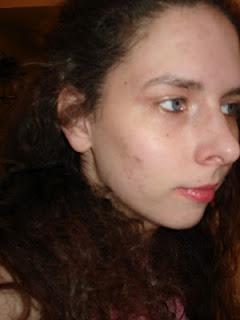 This is thanks to my cell phone, despite keeping it clean. It is much better, this is just the first time I have  taken a picture of it.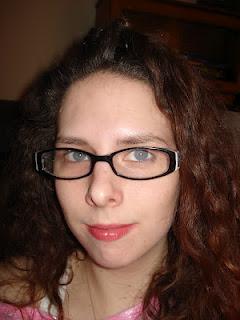 My skin is in much better shape now, but still has a long way to go.  Now I need to find a good eye cream =)  My point for this post is to illustrate the long process behind skin improvement and to show that there is hope.  Patience and persistence are necessities.   Of course what works for me, may not work for you.  But this may give you an idea of where to start and what to avoid.  What is even more interesting is that all of my skin woes seem to correspond with my own journey that I am going through in life.  Which I am still trying to figure out.  But then again, aren't we all?