I finally have the flu.  I have always been proud of the fact that I have never had it.  Well, it finally got me.  I knew something was wrong when I had a bad sore throat and felt achy.  I still feel like crap and can barely talk.  And now my poor mother feels like she is getting sick.  Despite feeling bad, I do have a few things that at least help me look halfway decent and will prevent me from looking like a zombie when I can finally leave the house.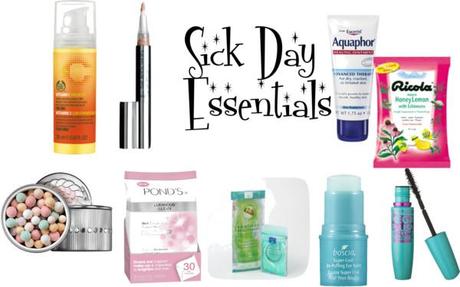 Sick Day Essentials by kristen-noel-williford featuring guerlain makeup









1.) Ponds Luminous Clean Cleansing Wipes
I am ashamed to admit that skincare is taking a back seat right now.  I simply do not feel like going through my typical routine, especially at night. These cleansing wipes are my favorite for a quick clean up.  They are effective, smell nice and have gentle grooves so you get a bit of exfoliating action.
2.) The Body Shop Vitamin C Skin Boost
For some reason, the idea of a heavier moisturizer just seems gross to me at the moment.  I have been using this serum to keep my skin soft and bright.  It also helps makeup go on a bit more smoothly.
3.) Earth Therapeutics Cucumber Eye Kit
Having the flu  usually means, tired, puffy and dark eyes.  In order to help my eyes feel better, I like sticking the Cucumber Mask in the freezer for 10 minutes and leaving it on for 10 minutes.  I feel much more awake and alert after using it.
4.) Boscia Super Cool Eye Depuffing  Eye Balm
I adore the way this convenient balm makes the skin under my eyes feel.  It is so refreshing and leaves me feeling wide awake.  I have been using this for a few weeks, and my dark circles look slightly lighter.  I can't say what it does for puffiness because that has never been a huge issue for me.   It does leave my undereye area feeling softer, brighter and refreshed.  I always carry this with me in case I need a quick, refreshing boost.
5.) Aquaphor
This stuff is a savior for dry, cracked skin.  When I am sick, my eczema tends to act up and my lips crack.  That is not a good look for anybody.  And that is why I have my handy dandy tube of Aquaphor close by.
6.) Maybelline Mega Plush Mascara
Even though I have not left the house, other than to go to the pharmacy, I still like putting on a little makeup.  Every girl likes having long, full, clump free lashes and this mascara does just that.  And if I do have to venture out, I will be ready and my lashes will look fabulous.
7.) The Body Shop's Lightening Touch
Instead of foundation, I opted for this magic pen.  I use it around my eyes, nose and to help cover any discolorations.  It works like a charm and prevents me from looking like a zombie.  I have also used it as a shadow primer, which worked very well.  The best part is that it also prevents me from getting too oily. 
8.) Guerlain Meteroites in 01
This is a wonderful finishing powder.  It adds just a touch of radiance and controls oil.  And I love the trademark violet scent of Guerlain's products.  I apply a little bit on my face and I look like I actually got a full night's sleep.
9.) Ricola Cough Drops
I hate they way they taste, but they sure are effective.  I have had a bad sore throat, and these have really helped.  Sure, the taste is awful, but it helps soothe my throat and I cough less.