This month, my favorites post might be all over the place because I forgot to write everything down. I used to never do that, but with everything I have to remember and keep up with, jotting down the main points of a post really helps me out now. But I am back to winging it for the time being. I will say that I have a lot of skincare products to talk about because I have tried a couple of different cleansing devices plus I finally used a lot of the stuff Derma E sent me, and their line of skincare is amazing. I do have a few makeup items, though.
My first favorite is a lip product that I mentioned in my last post. I ordered Dolce by Anastasia Beverly Hills in the beginning of July and I have worn it so many times since then. It is a gorgeous everyday shade, but it isn't your typical nude lipstick. It is a lovely subdued coral that livens up your face without being bold. It pairs well with almost any look, and I especially love it with a bold warm toned eye look.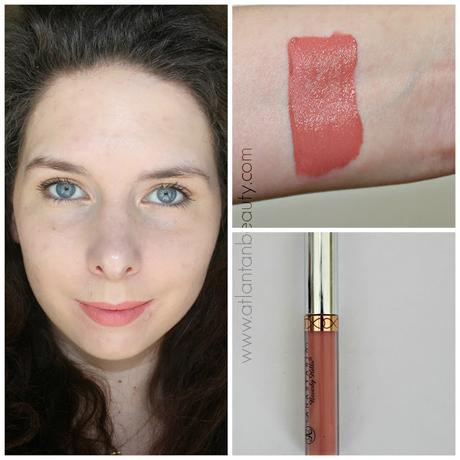 Up next is another Anastasia Beverly Hills product that everyone raves about and for good reason. Her Glow Kits are insane in the best way possible, and Sun Dipped might just be the best one. I think it is one that every skin tone can use. For instance, I can't use Bronzed or Tourmaline as a highlighter or even as a bronzer. But I love mixing them for a warm toned blush, and they also make gorgeous eyeshadows. It is well worth the money and I will have a full review up after this post.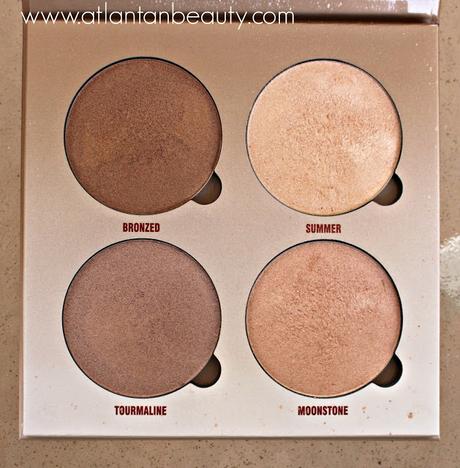 Outdoor lighting only.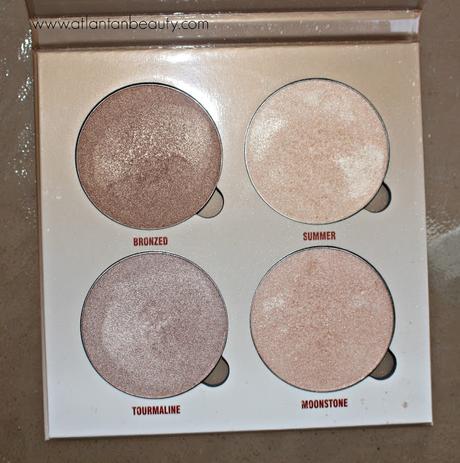 Taken with flash in outdoor lighting.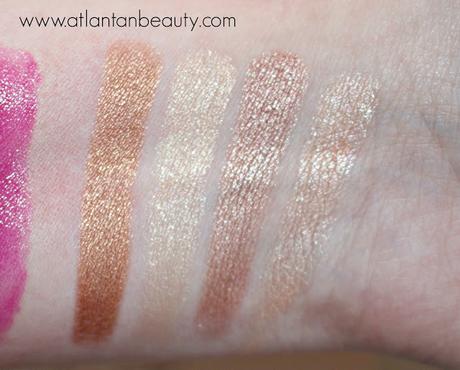 These are definitely not the best swatches, but it gives you general idea of what it is used for.
I think I have mentioned this foundation in a favorites post a few months ago, but I have rediscovered my love for Urban Decay's Naked Skin One and Done Complexion Perfector. This foundation has light coverage and looks natural, but it still makes your skin look amazing. It has a natural, skin like finish and it doesn't get greasy and melt off your face. I am almost done with my first bottle and I already have a back up.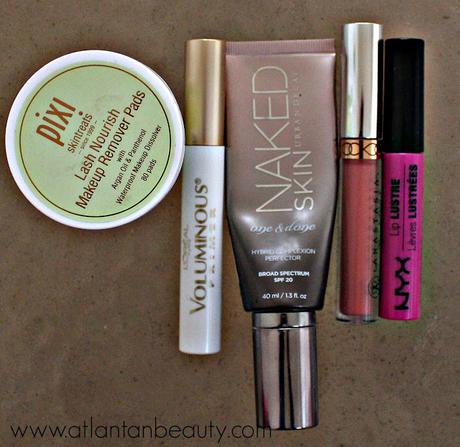 The new NYX Lip Lustre Glossy Tints have some mixed reviews, but I like them a lot. They have the best qualities of a gloss and a lip tint. They go on shiny and remain that way for about two hours, then leave behind a nice, even stain. They are nicely pigmented and do not feel drying at all.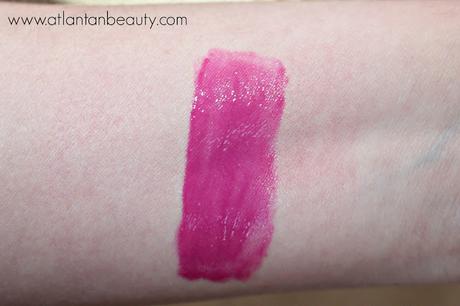 I have tried out two skin cleansing systems over the last month and a half that I really like. I like both of them for different reasons and I will do a blog post comparing/contrasting them. The one that I use the most is Instrumental Beauty's Sonic Touch Cleansing System, which is basically along the same line as the Foreo Luna for a lot less money. It is gentle, but effective. I like that is hygienic and has tow sides: one for deeper cleansing and the other is for sensitive skin. The other is by Ulta is more similar to a Clarisonic in that is a brush. I like that one a lot because it much more gentle than the Clarisonic and my skin responded well to it. I will hash out all of the details for you so you can see which one would be best for you.
My new favorite cleanser is Derma E's Purifying Gel Cleanser. It has activated charcoal, so it does a fabulous job at removing any kind of disgusting gunk residing in your pores. It doesn't irritate or dry out my skin all and I have noticed a reduction in the amount of breakouts I have. Other Derma E products that I have really been enjoying are their Purifying Youth Serum, Overnight Peel, and DMAE Eye Lift. They work well together and I haven't experienced irritation. Derma E is also an all natural brand. I was sent all of these products, but I am not sponsored or affiliated with Derma E.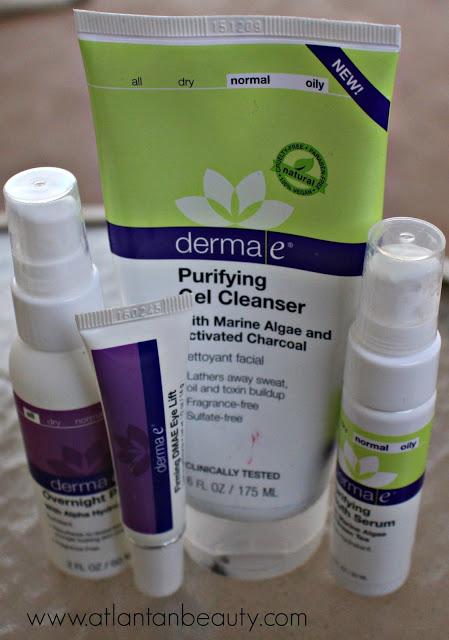 Another skincare product I have been loving can be found at CVS, and it is quite nifty. Skin+Pharmacy has these handy retinol pads that make applying retinol a cinch. I use them two or three times a week. Retinol usually causes some kind of temporary irritation, but I haven't experienced any with this product. The price is about $20 and you get 20 pads in a package.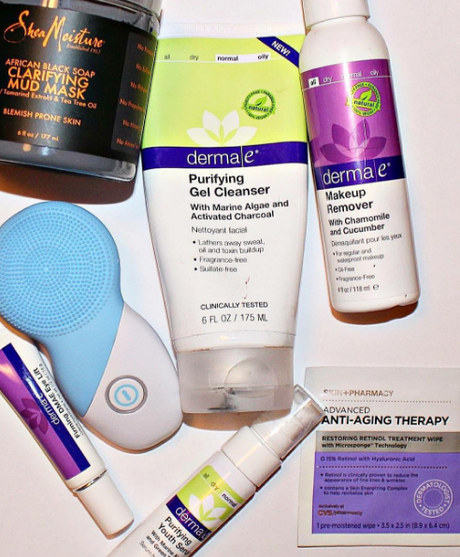 To remove my eye makeup, I have been using Pixi's Lash Nourish Makeup Remover Pads. They take off eyeshadow and eyeliner better than any makeup remover I have ever tried. It isn't the best at removing mascara sometimes, but these little pads have excellent nourishing ingredients.
I have been using Shea Moisture's Pure Jamaican Black Castor every night on my lashes and eyebrows. It has worked wonders on them. I was skeptical at first, but castor oil really does help your lashes and brows grow thicker. I  have also used it on the ends of my hair and it worked well, too. I love that they used a glass bottle and a pump. I just pump a little bit onto a spooly and apply. Their Clarifying Mud Mask is fantastic, too. The texture of it is almost like pudding and it is non-irritating, yet it makes your skin feel so smooth.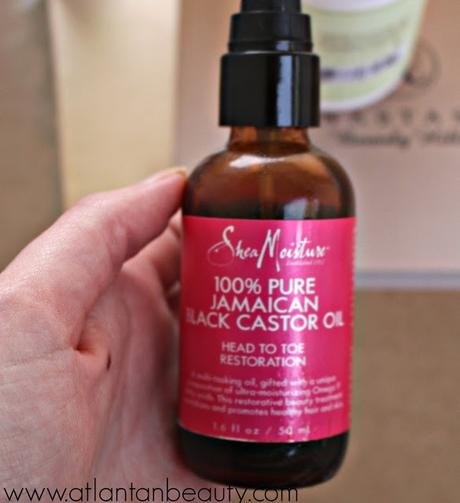 I received the L'Oreal Voluminous Primer in the Voluminous Vox Box from Influenster. I honestly didn't expect to like it because most lash primers don't do anything for me. But this stuff is really good. It coats the lashes very well and it doesn't dry too quickly so you have ample time to apply your mascara. My lashes don't look clumpy or feel crunchy. As an added bonus, this stuff conditions your lashes, too.
The last product I want to mention is Makeup Revolution's Fortune Favours The Brave Palette. It has  a good variety of shades and the quality overall is really nice. I'll be doing a full review soon, so be on the lookout for that.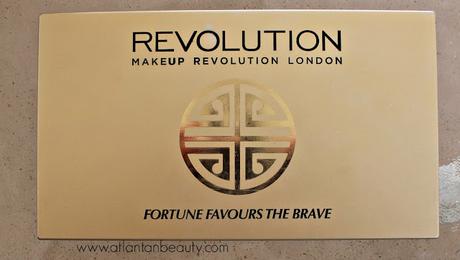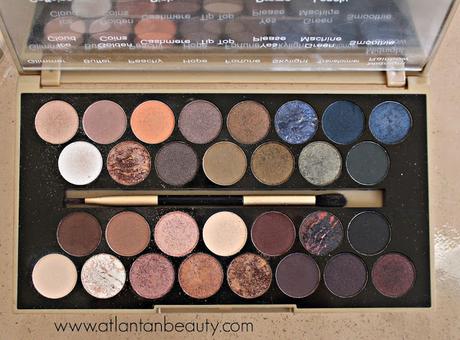 I ended up with a lot more monthly favorites than I expected. I will be reviewing a few of these products soon and I really need to do an updated skincare routine because I have seem some great results.
I hope you guys are having a great week so far! See you soon.